Concept: The Women of Worth program honors Canadian women who selflessly volunteer their time to serve and improve the lives of those in need, selected from an impressive pool of public nominations
Objective: Highlight the chosen honorees and encourage fans to vote and learn more about each individual before the National Honoree is announced on March 9, 2018
Digital Campaign Index (DCI) Score: 125
Use Case: Sign up with voting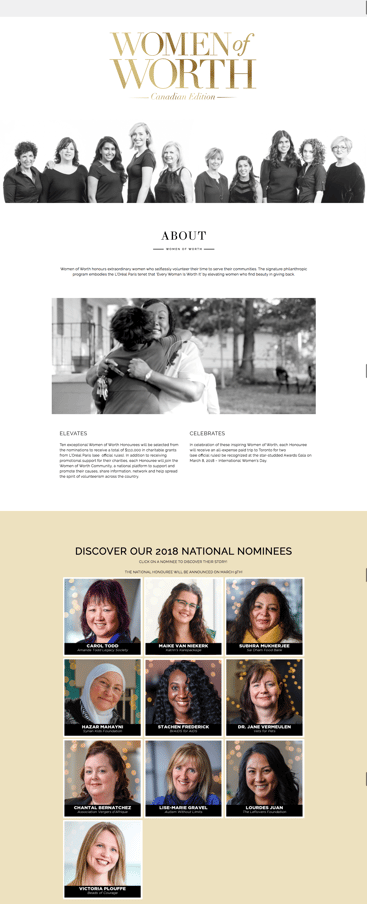 The month of March kicks off Women's History Month, an annual month-long celebration of the contributions of women to society, including Internal Women's Day on March 8. From Hollywood to Politics to Health, women have taken the reigns and are leading the charge to enact change and conceptualize a better world for everyone. For the second year, L'Oréal Paris will be honoring women who give back by volunteering their time and efforts to humanitarian work at the Women of Worth Awards Gala.
The Honorees are selected from an impressive pool of public nominations and chosen by an esteemed judging panel based on the impact of their cause and the innovation demonstrated to benefit those less fortunate. One of the ten Women of Worth Honorees will be selected as the National Honoree and L'Oréal Paris launched a public voting program to solicit votes and encourage voters to learn more about the inspirational work each honoree is being recognized for. The public was able to vote by visiting womenofworth.ca and read more details about each Honoree's cause. Voting officially closed for the program on March 4, and the winner will be announced on at the Awards Gala in Toronto hosted by L'Oréal Paris spokesperson, Helen Mirren, on International Women's Day, March 8. Visit the Women of Worth website to read more about this year's awards program and the inspiring honorees.
DCI Score Overview: 125
L'Oréal Paris' voting and awards program has been performing well to date, with a DCI Score of 125, comprised of an Engagement Score (ES) of 185 and a Virality Score (VS) of 65. The L'Oréal Paris team optimized their voting embed to optimize for high engagement. Stage 1 encouraged voters to click, scroll and read the different bios and Stage 2 launched the voting component.
Check out more details on their voting program below and how you can optimize your own campaigns for engagement and virality below.
Engagement Score (ES): 185
Take advantage of improved components. The Wyng voting and form components streamline the voting process and makes it even easier for consumers to participate, resulting in an increase in engagement.
Leverage existing content. Not only is L'Oréal Paris featuring the current year's honorees, but they also link to the 2017 honorees, keeping consumers on their pages, scrolling through and clicking for more information.
Add a video to your voting pages. Around 78 percent of consumers watch videos online every week and adding a video to your campaign pages is a great way to increase the time consumers spend interacting with your content. L'Oréal Paris took advantage of video and embedded a video interview with each Honoree that voters could watch before making their decision.
Virality Score (VS): 65
Enable sharing on pieces of campaign content. L'Oréal Paris enabled sharing on each Honoree's bio page, so voters would be able to share their favorite Honoree and information about their causes on Pinterest, Twitter, and Facebook. Incorporating a share component to campaign content is a smart way to drive earned reach and extend the impact of a campaign.
Allowing one vote per day. Campaigns will often limit consumers to one vote throughout the duration of the campaign, but L'Oréal Paris made the smart choice to allow one vote per email, per day, which not only helps drive repeat traffic, but also repeat content and campaign-level sharing.
Each Honoree will receive a $10,000 grant for their charity, as well as a trip for two to the Awards Gala in Toronto and marketing support to increase visibility for their charity from L'Oréal Paris. To learn more about the inspirational work being done by these ten impressive women visit womenofworth.ca.