Concept: Launch a Countdown Calendar that capitalizes on the Summer of Smiles.
Objective: To pair with complementary brands and promote their new Two Minute White dental whitening kit.
Digital Campaign Index (DCI) Score: 123
Use Case: Countdown Calendar
From the second week of August through the last week of September, Luster is running a campaign that's sure to make any consumer's frown turn upside down. Every few days, the brand releases a new prize — $4,000 worth of them in total — as part of its Summer of Smiles Sweepstakes. In exchange, the brand collects a trove of first-party data (full name, complete home address, mobile telephone number, age, and valid email address), which will make retargeting a breeze for its next campaign. And if Luster continues to execute its social strategy this well, it's sure to see similarly impressive levels of engagement and virality.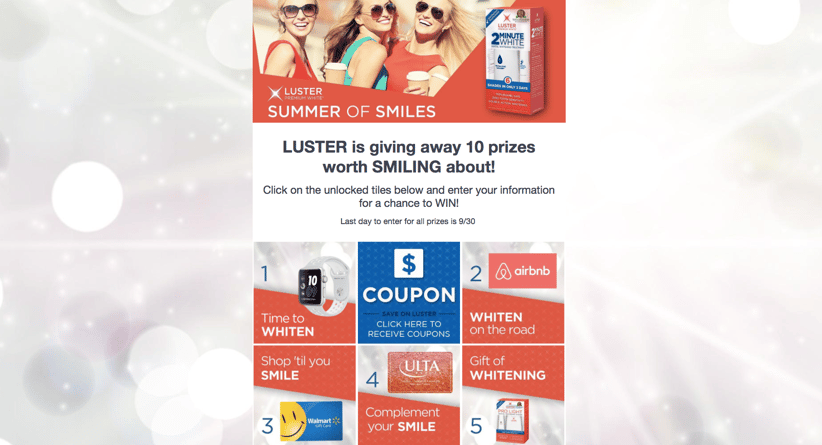 DCI Score Overview: 123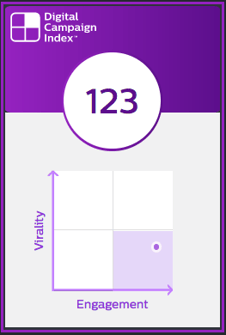 Luster's DCI score is a combination of an Engagement Score (ES) of 174 and Virality Score (VS) of 73, and, especially for a sweepstakes, it's impressively high. By understanding their demographic and generating organic hype, Luster is executing a successful campaign.
Engagement Score (ES): 174
Release content at a predictable cadence.

Instead of allowing consumers to enter their information once and be eligible to win every prize, Luster decided to have them return to the site after each announcement. Though this creates more work for the participants, it keeps the campaign top of mind and drives repeat traffic — always a good sign of engagement.
Partner with brands that share a similar demographic

. Luster isn't giving away whatever they found in their storage closets. Instead, they're offering prizes from complementary verticals: fashion, fitness, and travel. Combined, these items suggest an appealing lifestyle for Luster's audience and entice consumers to stay on the campaign, perusing the giveaways.
Reward participation.

Besides the prizes, another incentive for consumers to keep coming back was the discounts offered after inputting their information. For example, after entering for the chance to win a $350 gift card to AirBnB, consumers also receive 20% of their entire purchase on Luster's main site, increasing the overall time on site.
Virality Score (VS): 73
Include a photo or artistic element.

For a chance to win additional prizes, consumers can upload a picture of themselves to their social media accounts, describe why they love Luster, and include the hashtag #LUSTERContest. And if they don't have access to a Luster product, they can artistically render one, making this option fun and accessible.
Incorporate influencers with the appropriate fanbase

. Another way Luster targets potential consumers is by

partnering with bloggers

in the fashion and lifestyle verticals. By offering a kind word about the campaign (and explicit instructions on how to participate), the influencers encouraged sharing and traffic to the site.
Embed social buttons on the site.

Sharing a campaign should be as easy as clicking a button. With direct links to Facebook, Twitter, Pinterest, and email, Luster ensured that consumers could spread the word to all their friends.
Of all the use cases, sweepstakes tend to have the lowest levels of virality because the primary objective is to collect data. Still, it always helps to have organic hype around a campaign (especially an engaging one), which Luster generated by knowing their audience, incorporating social, and offering ten awesome prizes.
Learn more about the Wyng Digital Campaign Index here.