Concept: Launch a sign up form in over 8 different languages as a teaser for the upcoming MCM and PUMA collaboration.

Objective: Encourage email sign ups and engage consumers ahead of the launch of the MCM and PUMA collaboration launch.

Digital Campaign Index (DCI) Score: <25

Use Case: Multilingual Sign Up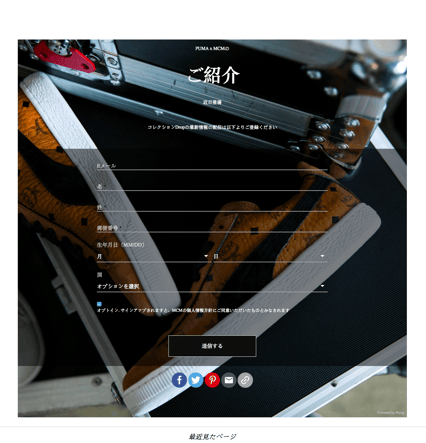 To drum up excitement with their customers around an upcoming collaboration line with PUMA, MCM launched a global sign up campaign in 8 different languages, spanning English, French, German, Chinese, Japanese and more. The campaign was aimed at engaging consumers via email to pulse out updates and teaser content. The number of non-English speaking internet users continues to rise, making it essential for brands to consider a multilingual approach when developing digital campaign experiences if they want to connect with these potential customers —before the competition does. As a global brand, MCM leveraged turn-key multilingual components to easily launch a campaign that reaches and can be accessed worldwide.

DCI Overview: <25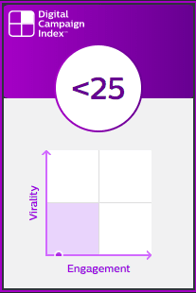 MCM's DCI score is a combination of an Engagement Score (ES) of <25 and a Virality Score (VS) of <25. MCM's campaign is optimized for multilingual capabilities and email acquisition, as sharing at this phase of their campaign wasn't a key priority, however, we are sure later phases will emphasize sharing as they launch the MCM x PUMA line.
Check out more details on some best practices any brand can incorporate into their next global campaign to optimize for over 6,000 different languages.
Engagement Score (ES): <25
Make it multilingual.

Due to the high interconnectivity and global-access that the digital revolution has provided, agencies and brands can no longer just concentrate on domestic markets if they want to remain competitive. With over 7.4 billion people on the planet, and only 360 million English speaking people, marketers and communicators need to also be thinking about those other 7 billion and how they can be reaching and engaging them around their brand, product, or experience, an easy step is launching campaigns in multiple languages.

Translation doesn't have to be difficult. Offering campaigns in multiple languages can be a turn for many brands, due to the extra work and costs, so we decided we wanted to change that. MCM made use of our text customization and translation features in the Drag-and-Drop Builder within the Wyng Platform. This feature enables marketers and developers to easily set up campaigns that feature custom text in English and over 6,000 other languages!

Virality Score (VS): <25
Phase out your campaign.

A great way to extend the life of a campaign and continue to push sharing and engagement is my phasing your campaign. MCM split their campaign between, opting to start with a simple sign up teaser ahead of the full launch of their PUMA collaboration.

Pro-tip - don't be afraid of Instagram. Instagram's popularity has been on a steady increase since it first launched in 2010. With more than 500 million active users, Instagram is the second most popular social media network and is looking to snatch the crown. Brands looking to harness consumer excitement, drive social sharing, and maybe spark their own viral moment should leverage Instagram's popularity and high rate of sharing and engagement to give their campaign's a boost. Instagram has also made some sweeping changes in the last few weeks, which have had major impact on how brands can use Instagram. Check out our blog here for our recommendations and updated.
To learn more about the ways you can leverage global capabilities, download our latest Digital Campaign Index Benchmark Report, HERE. In the report, you can find insights and pro-tips like the below!