Concept: To drive visibility and engagement during the holiday shopping season, Ashley Stewart launched an interactive quiz to help consumers identify the right look for them featuring shoppable products.
Objectives: Improve personalization around marketing communications for new products, offers and recommendations during the holidays; direct consumers to a shoppable product recommendation; capture first-party data to integrate within its CRM database and drive engagement and customer retention.
Use Case: Quiz + Sweepstakes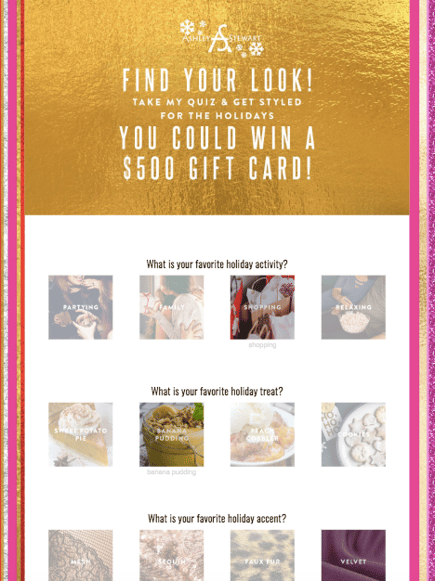 Personality and trivia quizzes are fun and easy content for your brand at any time of year, but the holidays present a particular opportunity to engage your audience with a timely promotion, especially when for many businesses, strong sales and visibility during the holidays are imperative to a successful year.
Ashley Stewart is renowned for its engaging microexperiences and they truly turn it out during the holidays. There most recent "Find Your Look" quiz microexperience is no exception. They published a data-centric quiz to their website; asking consumers to answer a series of short questions around their ideal holiday activities and vibes to find their holiday look, made up of personalized product recommendations based on their responses. For participating, fans are also entered for the chance to win a $500 gift card.
The answers to their interactive quiz provide Ashley Stewart with data that can be used within future marketing communications during the holiday shopping season, and gives them the option to utilize this valuable first-party data within its CRM strategy - a major resource for a brand looking to turn up the heat on sales during the final stretch of the year.
Check out their interactive quiz HERE.
Keep reading for a few tips and stats that your brand can leverage Questions and Quizzes to collect first-party data.
Quizzes really work and the numbers don't lie. The average quiz has a 31.6% lead capture rate and, according to BuzzSumo, the average quiz gets shared 1,900 times across digital platforms. So, not only do quizzes maximize brand visibility and sharing on social media, but they also allow brands to capture valuable trusted data to leverage for conversations and other marketing activities.
Help solve your consumers' decision fatigue. Making decisions can be difficult. What to get for dinner? Where to go on vacation? What should I get Aunt Pam for the holidays? Brands that have published quizzes as a method for helping their consumers make these decisions have seen the payoff through increased website traffic, spikes in engagement and high-quality email acquisitions.
Learn more about how brands, like Ashley Stewart, are using first-party data to methodically convert their unknown audiences into known contacts to win holidays — and their formula for success HERE.