Concept: Have fans share photos of their front yards and gardens for the chance to win a variety of prizes and the title of Best Front Yard in America.
Objective: Build and nurture brand affinity; increase followers and engagement with the Better Homes and Gardens social and web platforms.
DCI Score: 166
Use Case: Voting and Hashtag Contest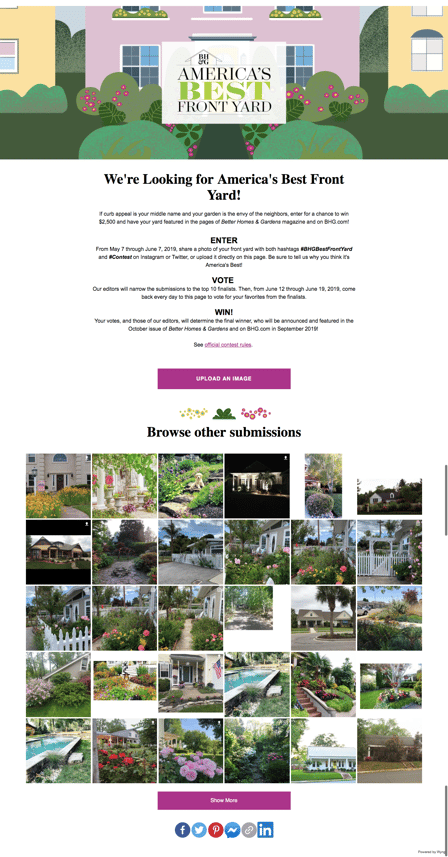 Better Homes and Gardens, one of the leading authorities on all things related to home decor and gardens, is looking to find the best America's best front yard, and they are offering a dream prize for a gardener or landscaper, the chance to be featured in an issue of Better Homes and Gardens.
So if curb appeal is your middle name and your garden is the envy of the neighbors, now is your enter to win $2,500 and have your yard featured in the pages of Better Homes & Gardens magazine and on BHG.com in October!
To collect entries, the BHG team launched a contest microexperience around their hashtag, #BHGBestFrontYard, and through an online upload component on their contest landing page. Entries are being accepted via social media and on their microexperience page until June 7, and then they will be opening up their campaign for public voting from June 12 through June 19, where voters can come back every day to BHG's page to vote for their favorites from the finalists.
Check out their campaign HERE to enter or get inspired to launch a microexperience for your brand.
DCI Overview
Better Homes and Gardens microexperience reflects several best practices that are contributing to their DCI performance of 166, including both an Engagement Score (ES) of 236 and Virality Score (VS) of 96. Their #BHGBestFrontYard contest is a perfect example of how a brand can leverage voting and social to increase overall brand engagement.
Check out more details on some best practices any brand can incorporate into their next sweepstakes to optimize for engagement and virality.
Drive sharing via voting. Better Homes and Gardens will have a formal judging process to determine the grand prize winner, but they have enabled fans to vote for their favorites as well, increasing the number of people visiting and sharing their individual photos to solicit votes and drive earned visits.
Allowing one vote per day. A best practice we repeat often, is not to limit consumers to one vote during the campaign voting process, but enable consumers to have one vote, per day, which will not only drive repeat traffic, but also repeat content and campaign-level sharing.
Learn more about how brands, like Better Homes and Gardens, are using zero-party data to methodically convert their unknown audiences into known contacts — and their formula for success HERE.