Concept: Launch a timely campaign to help fans keep summer going with the chance to win a trip to Hawaii for two.
Objective: Inspire fans to spread the word on social about Corner Bakery and drive email signups. Leverage branded frames to increase brand visibility.
DCI Score: 232
Use Case: Photo Lab + Sweepstakes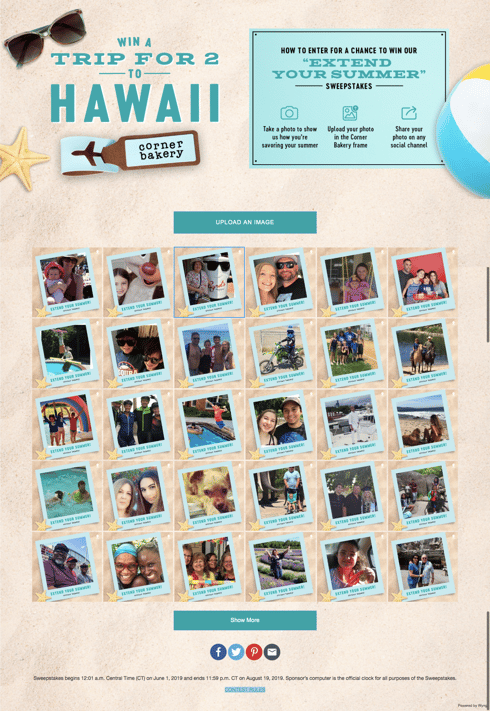 Summer is just starting, but Corner Bakery is already giving their fans the chance to keep the summer vibes and beach activities going with their "Extend Your Summer" Photo Lab sweepstakes. So, for anyone who finds themselves asking why summer has to end? Or fantasizing about beach days and iced drinks near a pool - this microexperience is created specifically for you!
To celebrate summer and encourage fans to share how they are savoring Summer 2019, Corner Bakery is asking their fans to share photos of how they are making the best of summer using their branded photo frames. Their summer-inspired microexperience is getting red hot with fans thanks to the exceptionally well-times prize and ease of entry, which has resulted in high engagement and virality.
You can check out their summer sweepstakes HERE.
DCI Overview
Corner Bakery's microexperience is a summer hit with a DCI performance of 232, including both an Engagement Score (ES) of 204 and Virality Score (VS) of 260.
Check out more details on some best practices any brand can incorporate into their next sweepstakes to optimize for engagement and virality.
Frame your campaign — figuratively and literally. The Corner Bakery team used summer-inspired frames to further emphasize the relationship between their social microexperience and their brand, increasing visibility and engagement.
When it doubt, ask, what would Oprah do. Corner Bakery went big for their sweepstakes and offered their fans an envy-inducing getaway. Offering a large prize is great way to get consumers excited and participating.
Keep your campaign timely. Consumers are more likely to engage with a campaign that aligns with their current conversations and interests. Tapping into the activity already taking place online is a savvy choice to boost sharing and overall engagement with your microexperience.

Learn more about how brands, like Corner Bakery, are using zero-party data to methodically convert their unknown audiences into known contacts — and their formula for success HERE.