Concept: To break through as the most authentic, Italian alternative pasta brand, launch a hashtag sweepstakes to stir up engagement and sharing.
Objective: Increase followers and engagement with their social platforms, boost awareness of Explore Cuisine's organic, plant-based line of pasta.
DCI Score: In Progress
Use Case: Hashtag Sweepstakes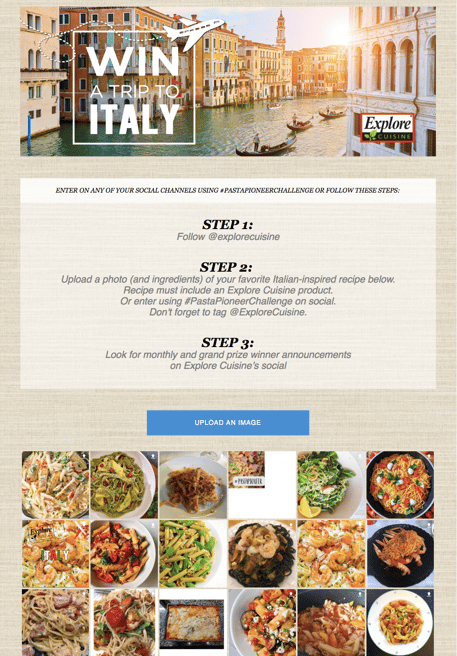 Explore Cuisine, the Pioneers in Plant-Based Pasta, are aiming to transform everyday pastas by helping consumers discover healthy twists on the (traditional Italian?) pasta dishes. So they've launched a pasta recipe challenge to get their fans into the kitchen and ultimately to the Culinary Capital of the world, Italy. The Explore Cuisine team is challenging their fans to get creative by making one of their favorite Italian-inspired Explore Cuisine recipes for the chance to win a mouth-watering prize that will leave anyone, aspiring amateur chef or professional, envious - a trip to Italy!
To participate, visit ExploreCuisine.com/PastaPioneer and follow these 3 easy steps:
Follow @explorecuisine
Upload a photo of your favorite Italian-inspired Explore Cuisine recipe HERE OR enter using #PastaPioneerChallenge on social.
Look for monthly and grand prize winner announcements on Explore Cuisine's social.
Check out their campaign HERE to enter or get inspired to try your hand at a new pasta dish by browsing the uploaded pasta dishes and recipes.
DCI Overview
Explore Cuisine's campaign is the process of ramping up buzz and submissions. But with a streamlined build and a clear call-to-action with an out of this world prize, we are sure they will log strong Engagement and Virality Scores.
Check out more details on some best practices any brand can incorporate into their next sweepstakes to optimize for engagement and virality.
Offer a mouth-watering prize. The competition for attracting your audience's attention is stiff, offering an unbeatable prize like Explore Cuisine did is a great way to give your brand a leg up on the competition and increase engagement with your micro experience.
Have a clear call to action. One of the easiest ways to encourage engagement is to provide clear, specific guidance on how to participate in the campaign. Explore Cuisine kept the directions for submitting an entry simple as were the instructions for winning. Lengthy directions or multiple calls-to-action may increase confusion preventing consumers from participating.
Include a hashtag for entry. A simple way to increase sharing is to enable entry submission using a campaign hashtag on social. Not only did the Explore Cuisine team allow consumers to directly upload their photos, they also encouraged submissions by sharing on social media using the hashtag #PastaPioneerChallenge.
Learn more about how brands, like Explore Cuisine, are using first-party data to methodically convert their unknown audiences into known contacts — and their formula for success HERE.