Concept: Partner with SheKnows for a summer-themed contest targeting parents ahead of the back-to-school season
Objective: Drive data acquisition and marketing opt-ins for Invisalign and SheKnows. Capitalize on their partnership to boost campaign awareness and increase audience reach with moms and teens.
Use Case: Sign-Up Form and Contest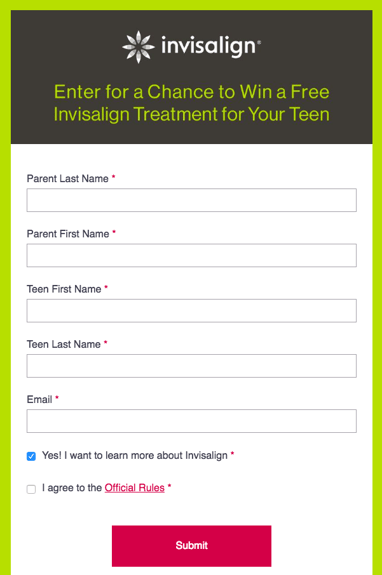 This summer SheKnows has partnered with the Invisalign brand to give parents a chance to win free Invisalign treatment for their child. The timely contest not only promotes Invisalign as an increasingly popular orthodontic choice with patients, parents and teens for simple to complex cases, but also enables Invisalign and their sponsored media partner, SheKnows, to drive data acquisition and marketing opt-ins to build their CRM database, using an exciting prize offering.
Check out Invisalign's microexperience that leverages our enhanced sign-up forms HERE, and keep reading below for best practices you can incorporate into your microexperiences to optimize for success.
Leverage a partner to secure opt-ins. Invisalign made a great choice by leveraging a media partner to utilize their readership to secure new opt-ins to receive the latest marketing communications from their brand providing them with valuable data that can be seamlessly synced to their CRM database. Media companies are a great partner for sweepstakes and contests, since they have already built up trust and the expectation sharing information with their readerships.
Utilize flexible forms. The first step in securing data is ensuring you have forms that are flexible and can easily be added to any digital microexperience. With customizable fields and multi-language support, the Wyng form will ensure you are capturing the data most relevant to your brand's objectives.
Learn more about how brands, like Invisalign, are using opt-in data to methodically convert their unknown audiences into known contacts — and their formula for success HERE.