Concept: Drive engagement amongst fans by offering the chance to win tickets to an Ohio State Football Game with a timely quiz-based microexperience.
Objective: Gain a deeper understanding around its audiences Game Day tailgate and beef preferences; capture zero-party data and email opt-ins to integrate within its CRM database.
DCI Score: 176
Use Case: Visual Questions Component + Quiz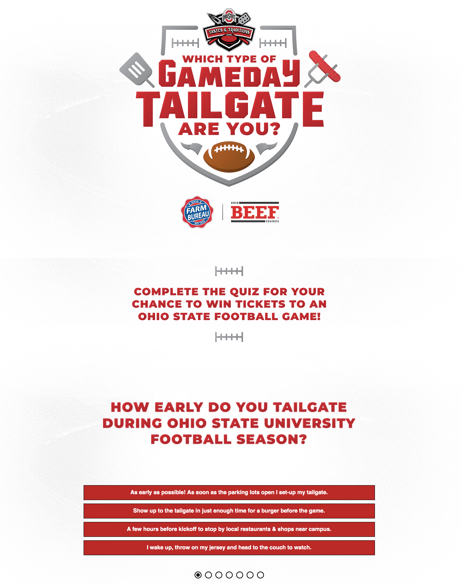 With about a month to go before the official start of the college football season, Learfield IMG College, Ohio State Football and the Ohio Beef Council have teamed up to launch a game day quiz using the new visual questions component in the Wyng microexperience builder and creative by Dark Shift Creative. Focused around understanding fans' tailgate and beef preferences, by completing the quiz fans are entered for a chance to win tickets to an upcoming Ohio State Football Game.
Check out Learfield IMG College and Ohio State's microexperience HERE, to see how they are leveraging Questions, a new drag & drop component in the Wyng microexperience builder that makes it easy for marketers to craft beautiful, one-of-a-kind microexperiences designed to collect data through a series of visual, interactive questions.
Keep reading for a few tips on how your brand can leverage a Questions and Quizzes to collect zero-party data.
Get To Know Your Fans, For Real. From learning when fans get their tailgating festivities going, to understanding what beef-based appetizer is their go to game day snack, quizzes and question-based microexperiences offer marketers an interactive solution to discovering what type of consumer their fans are, based on their "real" preferences and motivations.
Incentivize Participation. The biggest hurdle to acquiring zero-party data is establishing why your customers should share their personal data with your brand. By offering an incentive to participate in a brand-sponsored microexperience, such as a prize, exclusive access or visibility, you are establishing the, "why," for your customers, which in turn increases the likelihood they will share their highly valuable data, email opt-ins and personal preferences with you.
To learn more or get started with the Questions component:
Login to create a microexperience using the new Questions component.
Read our blog on how to use the Questions component.
Learn how the fastest-growing brands collect and activate zero-party data.