Concept: Shutterfly is encouraging consumers to share what they're grateful for and in return will be given a free gift to help them spread even more gratitude.
Objectives: Capture zero-party data and marketing opt-ins to understand purchase intentions and personalize marketing communications; drive online interaction by delighting fans with holiday giveaway.
Use Case: Giveaway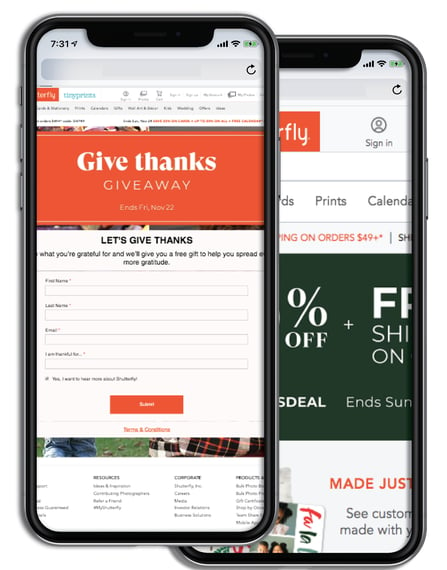 We preserve the important moments and people in our lives. From birthdays, marriages, to holidays, photographs are our personal story, a timeline of the moments that have filled our lives with joy and purpose. At Shutterfly, millions of people store, enjoy and share billions of photos, turning their memories into meaningful cards and imaginative gifts to create and give new memories.
To celebrate the holidays, Shutterfly, has launched a timely giveaway microexperience built around sharing and giving what you are grateful for. From now until November 22, consumers will be able to share what they're grateful for and in return will be given a free gift to help them spread even more gratitude. Consumers can enter via their embedded giveaway form on the Shutterfly brand.com page.
Check out their giveaway HERE, and while you're entering you can browse how to turn your photo moments into something special this holiday season.
Capture valuable zero-party data. To enter Shutterfly's giveaway consumers must complete a straightforward form provided by submitting their personal details to receive a free gift. Along with valuable personal data, Shutterfly is also collecting key information on what their consumers are grateful for, which can easily be used to create new marketing campaigns, new products, targeted messaging, and other direct-to-consumer initiatives.
There's nothing wrong with the simple life. The Shutterfly team opted for a simple sign-up form with key fields included to collect entries. Sometimes keeping a campaign simple is the best way to increase and encourage engagement. A complicated entry process can lead to decreased engagement and incorrect submissions.
Utilize flexible forms. The first step in securing data is ensuring you have forms that are flexible and can easily be added to any digital microexperience. With customizable fields and multi-language support, the Wyng form will ensure you are capturing the data most relevant to your brand's objectives.
Learn more about how brands, like Shutterfly, are using first-party data to methodically convert their unknown audiences into known contacts to win the holiday shopping season — and their formula for success HERE.