Concept: To celebrate summer, Stacy's is challenging their fans to submit their best homemade dip recipe for a chance to win.
Objective: Inspire people to purchase and get creative with Stacy's line of products. Leverage a creative, interactive microexperience to collect zero-party data.
Use Case: Sign-Up Form and Contest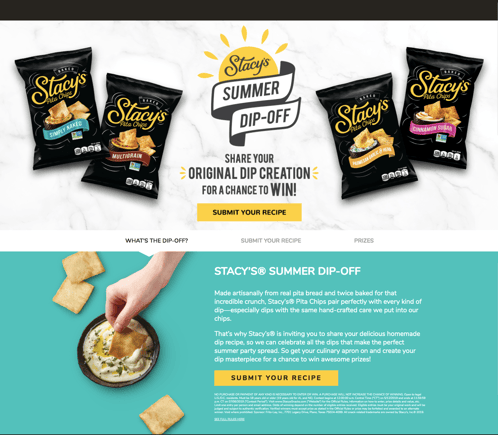 Who doesn't love an online food tutorial or the latest food competition. Food creators have encouraged us all to get creative in the kitchen and channel the inner food guru. Stacy's is giving all home chefs the chance to live out their wildest cooking show fantasy with their own "Summer Dip Off" recipe contest using their pita chips.
Fans will be able to compete for the chance to win a trip to film their own recipe tutorial video with the help of Stacy's and Bon Appétit.
The process for entering your best pie recipe is simple, just go to their microexperience HERE and follow the instructions to upload your best recipe. What could be easier!
Check out more details below on best practices you can incorporate into your microexperiences to optimize for success.
Let your fans be the creators. Fans are looking for opportunities to engage with brands and share their own creative pursuits. Giving your fans a platform to highlight your brand and reach a new audience is a great way to encourage engagement.
Leverage a relevant partner. Reaching new audiences is key for maintaining relevancy and increasing your brand's potential customer pool. Creating a microexperience in partnership with another brand, organization, or media outlet is a smart way to introduce your brand to new communities.
Learn more about how brands, like Stacy's, are using zero-party data to methodically convert their unknown audiences into known contacts — and their formula for success HERE.