Concept: Encourage consumers to shop and then share an eCard with their moms using a branded eCard microexperience.
Objective: Connect on a personal level with consumers to drive participation and social sharing; increase brand visibility around Mother's Day.
DCI Score: 133
Use Case: eCard Creator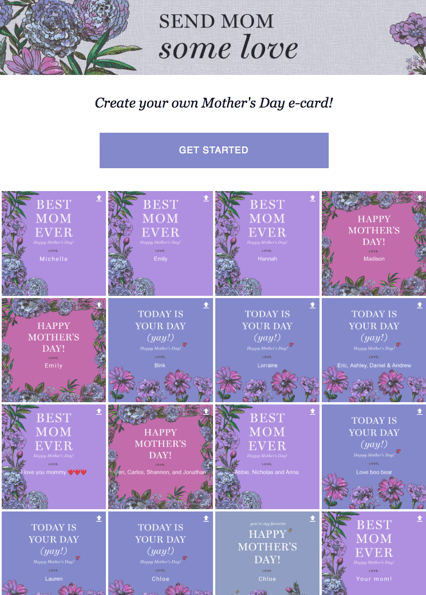 Social media has opened the door for brands to create microexperiences that can quickly capture and leverage cultural moments throughout the year. From quizzes to celebrate the start of a new season to sweepstakes tied to the first day back to school, the options are now endless for brands to interact with their consumers around these key moments on a personalized level.
This Mother's Day, Vera Bradley is doing exactly that by helping their consumers out with the last piece of their Mother's Day gift, the card. They launched a sentimental eCard microexperience that allows shoppers to send their loved ones a special eCard to tell them how much they mean to them this Mother's Day, bringing the entire shopping experience, gift and card, online, saving anyone who may still be scrambling to get a last-minute gift and card.
Make sure to check out Vera Bradley's Mother's Day eCard campaign HERE and share your own eCard to show mom you are thinking about her this Sunday.
DCI Overview
Vera Bradley's solid DCI score of 133 is a combination of their Engagement Score (ES) of 181 and a Virality Score (VS) of 85, and its success is due to a strategic pairing of campaign components to optimize for both sharing and engagement, aided by embedding onto their brand blog, which is linked to their brand.com website.
Check out more details on some best practices any brand can incorporate into their next sweepstakes to optimize for engagement and virality.
Make it branded – but keep it fun. Vera Bradley is known for their prints, especially florals. They leveraged this key aspect of their brand and products in their eCard designs. The design of their eCards did a great job of keeping their brand top of mind, without having to make it obvious by using a logo or on-the-nose text.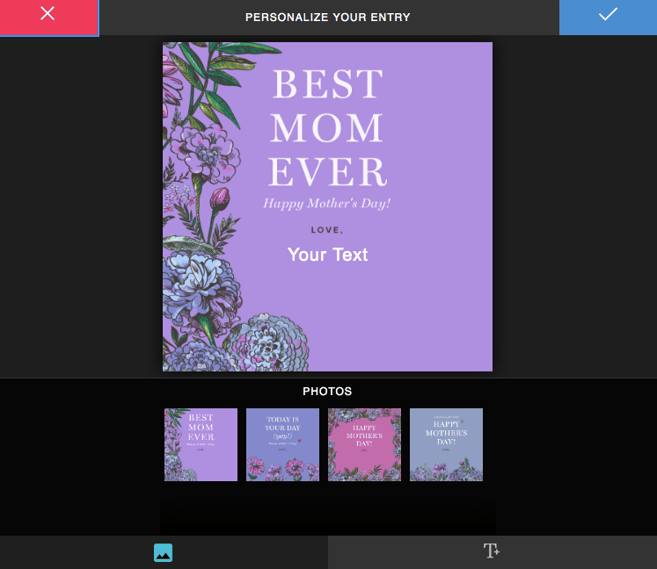 Connect on a personal level with fans. To put their consumers and their moms in the forefront of their campaign, Vera Bradley turned over the creative reigns to their consumers. The eCards uploaded in the gallery all appear with a frame with captions tied to a personal story. Letting your fans share intimate or sentimental moments and memories with your brand is a great way to build loyalty and trust.
Offer a digital solution. Worldwide, an estimated 500 million e-cards are sent each year, and we feel confident in saying a good chunk are sent during Mother's Day. By creating and hosting a digital card option, Vera Bradley gave their consumers a fun way to celebrate their love for mom on Mother's Day and spare them a trip to purchase a paper version.
Learn more about how brands, like Vera Bradley, are using first-party data to methodically convert their unknown audiences into known contacts — and their formula for success HERE.