Concept: Invite fans to take a short quiz to find their spirit salad for the chance to win a variety of sizzling summer prizes.
Objective: Launch an interactive microexperience to encourage audience participation, acquire high-quality data and drive brand awareness and purchases of NatureSweet products
DCI Score: 146
Use Case: Quiz and Sweepstakes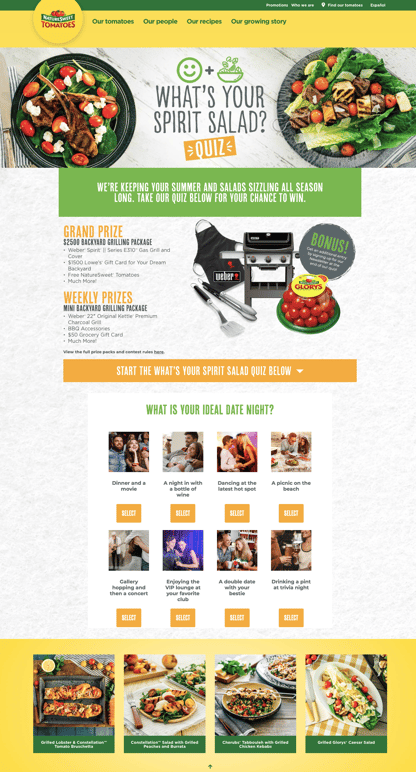 It may not officially be summer yet, but with temperatures creeping up and the sun staying out just a bit longer each day – summer is starting to set in. To get the summer vibes flowing, the team at NatureSweet is asking fans to pick their preferred summer activities to find out what their spirit salad is for the chance to win a variety of summer-themed prize packages.
The team created and published an interactive quiz on their website to boost interaction and to inspire visitors to check out a variety of NatureSweet products to incorporate into their summer salads and dishes. NatureSweet's quiz sweepstakes is a unique way to engage and have fans interact with key products to boost awareness and purchase intent! You can check out their summer salad quiz sweepstakes HERE.
DCI Overview
NatureSweet's microexperience reflects several best practices that are contributing to their DCI performance of 146, including both an Engagement Score (ES) of 140 and Virality Score (VS) of 152. Their "What's Your Spirit Salad" quiz sweepstakes is a perfect example of how a brand can leverage quizzes and interactive elements to increase overall brand engagement.
Check out more details on some best practices any brand can incorporate into their next sweepstakes to optimize for engagement and virality.
Tap into your consumers curiosity. Personality quizzes are often so appealing to consumers, because we are all constantly on the hunt to understand more about ourselves and others. At all of our cores we are curious and quizzes offer a simple and easy way to learn something new about ourselves and quickly relate and identify with other people that got a similar result.
Stagger your prizes or offer a multi-prize package. People love prizes! A great way to ensure consumers continue to engage with your campaign is to space out the prizes across multiple days, weeks, or months, or offer a multi-stage prize package. Staggering the prizes provides more opportunities for your consumers to win and will increase the likelihood that they continue to share and engage with your brand throughout the campaign.
Learn more about how brands, like NatureSweet, are using first-party data to methodically convert their unknown audiences into known contacts — and their formula for success HERE.