Concept: Launch a digital campaign in conjunction with the 25-year anniversary of Saturday Night Nick (SNICK)
Objective: Hype Nickelodeon's SNICK reboot with a viral and engaging social campaign
Digital Campaign Index (DCI) Score: 233
Use Case: Photo Lab
Do you occasionally find yourself asking who loves orange soda? Or debating which animal you would choose to morph into? Or fantasizing about sitting around a campfire and telling the most terrifying stories you and your friends can think of? Then there's a strong chance you're an #80sKid or a #90sBaby and enjoyed the very best of Nickelodeon's programming: Kenan and Kel, Animoprhs, and Are You Afraid of the Dark?, among many other favorites. These shows originally aired as part of Nickelodeon's Saturday Night Nick (SNICK) in August of 1992. To celebrate the 25-year anniversary, the channel re-ran classic episodes at midnight every Saturday in August, and to hype the blast from the past and fully capitalize on viewers' nostalgia, the brand launched a viral and engaging social campaign with a DCI of 233.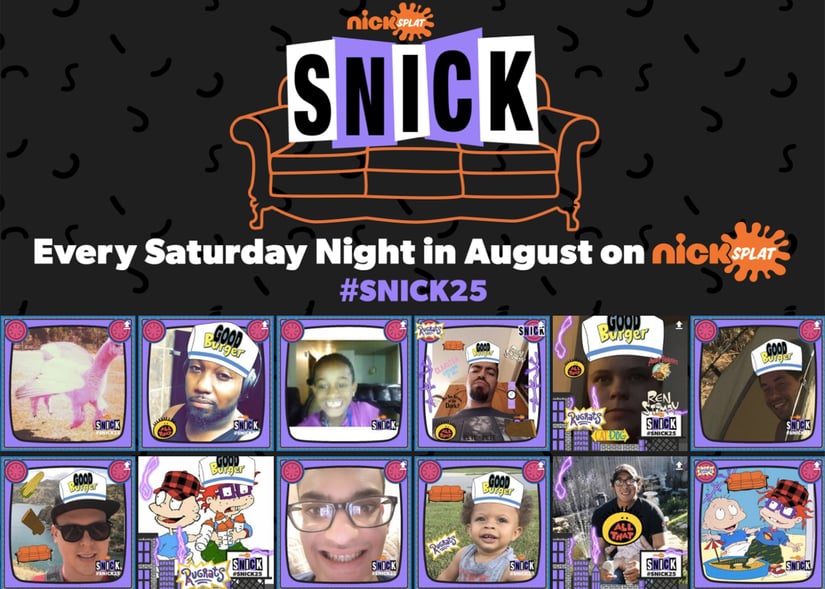 DCI Score Overview: 233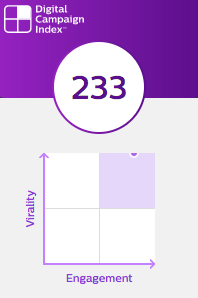 Nick's above-average DCI score is a combination of their Engagement Score (ES) and Virality Score (VS), and its success is due to a brilliant combination of design, execution, and promotion.
Engagement Score (ES): 163
Make your stickers wearable.

Free-floating stickers are great for branding content, but most pictures uploaded to the site are (hopefully) going to be of people, so give them options that they can digitally "wear." For example, one of the most popular stickers for Nick was the iconic "Goodburger" hat.
Keep your colors on brand.

The 90s had a pretty distinct color pallette, which Nick's campaign reflects perfectly. The light purples and neon oranges immediately trigger the part of the brain responsible for profound childhood memories, keeping consumers engaged on the campaign landing page.
Nostalgia can be more powerful than aesthetics.

Nick included logo stickers for all of the featured shows, along with the most iconic objects, and users were insatiable in their use of both. They saturated their pictures with images, demonstrating that an emotional connection is sometimes more important than a classically beautiful picture.
Virality Score (VS): 302
Lead with your best foot

. When Nick promoted the reboot over Twitter, it didn't need to produce new content or use a celebrity endorsement. Instead, the brand shared the original

teaser lead-in

for Nick. The target audience — adults who grew up with the series — recognized the clip instantly.
Frame your campaign — figuratively and literally.

Nick used frames that looked like cartoon televisions to further emphasize the relationship between their social campaign and the programming re-boot, increasing the likelihood that anyone who saw the pictures on social would tune in that coming Saturday.
Hype, hype, hype

. As part of their promotoin, Nick tweeted out

GIFs

that started out with recognizable characters, like Stewie and Chuckie from

Rugrats

, and were then embellished with the available stickers, subtly instructing fans for how they could create and share their own.
Not all brands have the benefit of a product that's as steeped in nostalgia as SNICK. However, every brand can use a variation of the best practices described above to make their campaigns engaging and viral.
Learn more about the Wyng Digital Campaign Index
here
.