Concept: Have fashionistas share their most fierce workout looks during New York Fashion Week for a chance to win a Reebok shopping spree.
Objective: Encourage consumers to engage and share their best Reebok and workout looks on social media with Reebok.
Digital Campaign Index (DCI) Score: 70
Use Case: Content Gallery on Website
"You better werk!" – is what Reebok is asking fashionistas and fans to do as part of their Sweat Style New York Fashion Week social media contest. While models like Gigi Hadid, Karlie Kloss, and Joan Smalls are serving their most fierce runway walks all across New York City this week, Reebok wants their consumers to serve up their most fierce workout or workout looks for the chance to win an iconic shopping spree.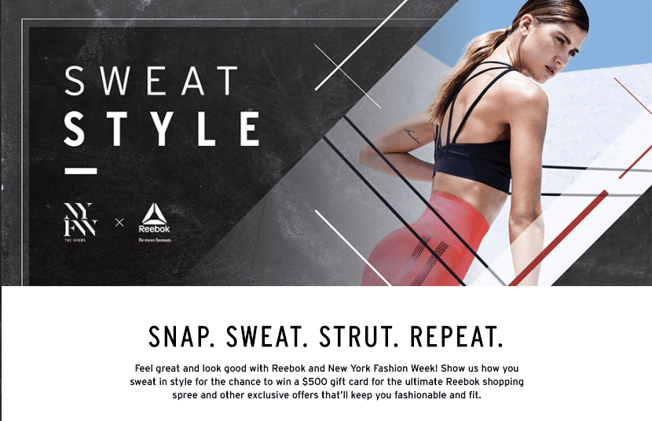 To celebrate fashion week and get consumers online and sharing how they "sweat in style," Reebok and NYFW will be collecting entries until October 8, 2017 using the hashtag #SweatStyleContest on Instagram, Facebook, and Twitter. Having just launched their campaign, the brand's DCI is slowly climbing, and we are sure it will be a showstopper, based on their sleek creative and sharp campaign copy.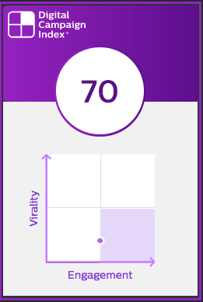 DCI Score Overview: 70
Reebok's DCI score is a combination of an Engagement Score (ES) of 100 and Virality Score (VS) of 40, and is a great example of a well-designed campaign with growth potential. As the campaign runs, they are going to benefit from the easy share capabilities, unique campaign hashtag and timely partnership with New York Fashion Week.
Check out more details on some best practices any brand can incorporate into their campaign's to optimize their Engagement Score (ES) and Virality Score (VS).
Engagement Score (ES): 100
Keep your campaign timely.

Aside from maybe the MET Ball, New York Fashion Week is the premier fashion event in the U.S., so what better time to launch a workout style contest. Consumers are more likely to engage with a campaign that aligns with their current conversations, interests and activities -- and the content they're sharing, in this case #NYFW.
Team up to make it werk

. Teaming up with a partner for a campaign can be a great way to expose your brand to additional audiences, increasing the likelihood of new audiences visiting and interacting with your campaign. Reebok made a great choice by partnering with New York Fashion Week.
Break through the noise

. Tying your campaign to a timely event or holiday can be a huge boost for engagement, but chances are your brand won't be the only one running a campaign. Optimizing your campaign with consumer-friendly components, eye-catching design and copy, and smart promotional spend are all key to making a splash in a crowded space.
Virality Score (VS): 40
A prize with some freedom.

A giveaway that is open-ended is a simple and smart way to encourage participation and sharing. Instead of limiting what consumers could win, Reebok is offering them a shopping spree where the winner will be able to shop to their own personal taste. Tres chic!
Inspire your consumers inner Mario Testino

. Reebok kept their ask simple and their contest hashtag even simpler. To enter the contest, all consumers have to do is upload a photo or video of themselves working out with the hashtag #SweatStyleContest and tag Reebok. Consumers can get as avant-garde as they would like with their contest submissions.
Collect submissions using a hashtag.

By collecting submissions across Instagram, Twitter and Facebook using only a hashtag, Reebok lowered the bar for entry, encouraging more consumers to share their submissions.
Reebok and New York Fashion Week's "Sweat Style" contest has us saying "sweat is the new black," and we will certainly be keeping an eye on this campaign to see the fierce entries they receive.