Concept: Have basketball fans enter for the chance to win tickets to the first or second round March Madness games
Objective: Engage consumers around the Reese's brand ahead of March Madness; grow Reese's email database
Digital Campaign Index (DCI) Score: 231
Use Case: Sign Up
There are a few more weeks before March Madness officially kicks off with Selection Sunday on March 11, but brands have already started building and publishing campaigns to get fans excited for the big games. One of our favorite campaigns that has launched ahead of March Madness is Reese's "Experience the Sweet Taste of Victory" sweepstakes. To get consumers hyped before the games start, the Reese's brand is collecting entries until March 2 for the chance to win tickets to either the first or second round March Madness games! While their campaign has only been active for a little over two weeks, the response from consumers has been massive and their slam dunk DCI score of 231 is evidence of that.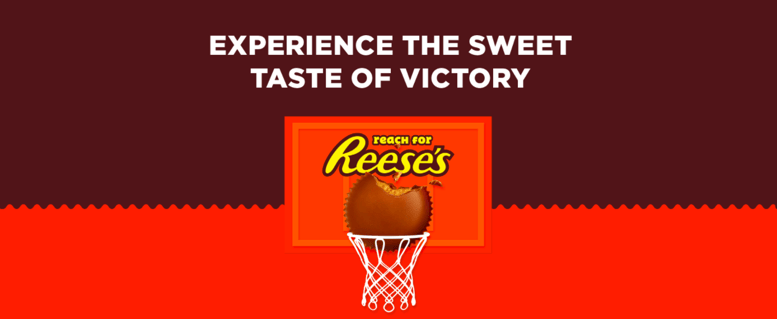 DCI Score Overview: 231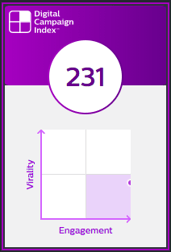 Reese's DCI score is a combination of an Engagement Score (ES) of 382 and Virality Score (VS) of 81, and is a great example of a well-designed campaign geared towards maximum consumer engagement and email acquisitions. We are sure their campaign's engagement score will only continue to increase as their sweepstake's entry deadline approaches.
Check out more details on some best practices any brand can incorporate into their campaigns to optimize for engagement and virality.
Engagement Score (ES): 382
Get ahead of the noise. Reese's did their research and timed their campaign perfectly to the upcoming March Madness games. Launching their campaign ahead of the main event ensured that their campaign wasn't going to be lost in all the noise during the games from other brands, a smart choice during popular sporting, entertainment or cultural events.
There's nothing wrong with keeping it simple. The Reese's team opted for a simple sign-up form with key fields included to collect entries. A complicated entry process often leads to decreased engagement and incorrect submissions.
Virality Score (VS): 81
A prize your consumers want. A giveaway that is timely and of value to your consumers is a simple way to encourage participation and sharing. One thing to keep in mind when deciding on a prize is to ensure the prize is still relevant to your campaign concept. A great prize can sometimes be overshowed if it doesn't mesh with your brand or campaign concept.
Add a Refer-a-Friend component. Sign-up forms on their own often don't inspire sharing with consumers. Adding a Refer-a-Friend component for additional chances to win is a smart way to encourage consumers to share your campaign across social platforms for multiple entries.
To learn more about Reese's campaign and enter to win those coveted tickets yourself, visit their campaign here.