Concept: Host a digital holiday treasure hunt for Santa on the Sobeys website. If consumers find Santa they could win prizes instantly
Objective: Increase consumer engagement and drive repeat website visits and conversions during the holiday shopping season
Digital Campaign Index (DCI) Score: 137
Use Case: Instant Win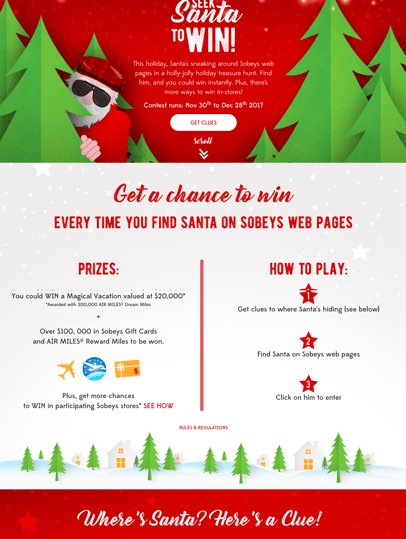 Waiting sucks. We all have to do it, but do we like to – absolutely not. Sadly, when it comes to waiting, whether in line at a concert or to open your holiday gifts, we are all at the mercy of the machine, except for a few choice situations, like Sobeys new Instant Win Seek Santa contest.
To take the waiting out of their holiday campaign, Sobeys added an "Instant Win" component to their Seek Santa contest —their consumers are now be able to enter and immediately (instantly!) find out if they're a winner — increasing excitement and engagement with their campaign and on their website. Now, if only there was an instant component for getting a replacement debit card or growing out a bad haircut!
Sobeys' Seek Santa contest is a virtual treasure hunt taking place across their website through December 28, 2017. Every time a visitor to their website finds a Santa they will be able to enter and find out if they've won a variety of prizes instantly, including a $20,000 Magical Vacation or over $100,000 in Sobeys Gift Cards and AIR MILES. The Instant Win component operates a lot like a slot machine or as our team at Wyng likes to describe it, Willy Wonka's Golden Ticket – where winners know immediately if they've won or not, and can be encouraged to come back and try (or buy) again, driving up engagements.
Sobeys kicked their Instant Win campaign up a notch by adding a creative treasure hunt element to keep consumers coming back and clicking on more of their website pages in search of Santa and some seriously amazing prizes. Sobeys' DCI score of 137 is a clear reflection of some smart choices to increase their campaign's engagement score.
DCI Score Overview: 137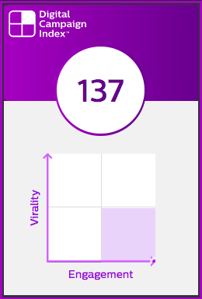 Sobeys campaign's DCI score is a combination of an Engagement Score (ES) of 275 and Virality Score (VS) of <25. Their campaign is benefiting from repeat campaign visits, campaign clicks and submissions.
Check out more details below on best practices you can incorporate into your digital campaigns to increase Engagement and Virality.
Engagement Score (ES): 275
Keep your prizes aligned with your brand. Having an over-the-top prize doesn't always ensure campaign success, after helping brands run thousands of campaigns it is clear that the value of a prize doesn't have to be high, but it should align with the heart of your brand or the campaign's theme. When prizes mesh perfectly with your brand, great things can happen in terms of engagement. If your fans love your brand, they will want to participate.
Build a campaign that encourages repeat visits and clicks. Sobeys did an amazing job of building a unique and creative contest that encourages consumers to keep coming back to their website in search of Santa and new prizes. Participating once in a campaign is a good, but building a campaign where consumers can participate multiple times is where brands can really win. Giving consumers more opportunities to spend time with your brand is a solid way to build brand loyalty and find new brand advocates.
Embed on site. Sobeys promoted their Seek Santa campaign and kept consumers on site by embedding the contest into their website. Using the Instant Win component, they built out an experience integrated with their own website, as opposed to an embedded module.
Virality Score (VS): <25
Encourage sharing for new chances to win. An easy way to increase sharing is to reward consumers that share the campaign with more chances to win. Adding a component where consumers are rewarded with either new prizes, clues, or opportunities to win encourages consumers to take that next step and share and promote the campaign with their social networks.
Make sure you go visit Sobeys website to see if you can find Santa here and maybe become a winner!