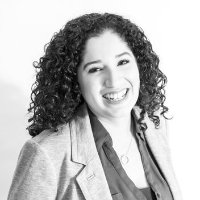 Creative and passionate about all things design, Kathy Gonzalez-Rubio is an Associate Creative Director at Creative8 Agency - a division of Studio Brand Collective. Kathy also happens to be our Wyng #AgencyLife Meme It to Win It contest winner. You can check out Kathy's winning meme and other hilarious submissions here.
In our first installement of the Wyng Agency Series, we got to know a little bit more about Kathy, including how she approaches crafting the perfect meme.
1. What do you like most about agency life?
I like that it's never monotonous, especially when we come together with teammates from different departments to build campaign strategies for clients. You get so many ideas and different perspectives from brainstorming sessions that leave you inspired and with a little more knowledge every time. It also helps that we're all sugar junkies (candy, cupcakes, cookies, you name it) and occasionally have beer and wine.
2. What's the biggest change in the agency business since you started?
Video and animation integration is evolving so fast that it's hard to keep up, but we've all been pitching in ever since the company purchased video equipment and video editing software. The best part of it is that we get to experiment a lot, which is always fun, even when it's late at night and we're testing to make sure that our GIFs fit on mac screens and PC screens and mobile screens.
3. How has your agency adapted?
We implemented more training for our designers in video editing and animation, and we're also starting to integrate these resources to the social media team as well because they need to produce more content more quickly -- you know, social media gurus. ;) Lastly, we try to implement cross-training among departments, so everyone in the agency can better understand what each person's role is in any campaign.
4. What's your proudest agency moment?
I was in a strategy meeting with a new client, going over our design strategy and why we suggested implementing new colors. In the middle of the presentation, the client stopped me to say she didn't like one of the colors we were suggesting. She didn't think it was part of her brand. I explained how it fit with the overall brand and the company's competitors, and she said she would keep an open mind. We designed all sorts of digital and print collateral, and a few months later, she personally told me in a meeting about all the positive feedback she'd received from clients and employees. The color scheme is now part of the internal branding, and I see it in every new infographic that's created. As minor as it may seem, I feel so proud to have provided such a positive change.
5. What is the last show you binge-watched?
I'm always watching Family Guy, The Office, Parks and Recs—I can never get tired of those. Recently, though, I started binge watching A Girlfriend's Guide to Divorce. It's so real – but also funny!
6. Who should play you in the movie version of your life? Why?
I want to say Kathryn Hahn because she is funny and awkward. I can be very awkward at times, especially in big social gatherings, but I love to make people laugh, so I think I'm funny, but definitely not as funny as her! (I wish!)
7. What is your all-time favorite meme?
Anything with the angry cat makes my day! Also, anything with Tina from Bob's Burgers dancing! Hahaha! And of course, the Y Tho memes… I can't pick just one, sorry (not sorry).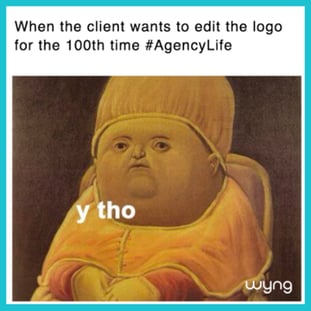 Kathy's winning meme for the #AgencyLife Meme It to Win It Giveaway
8. How do you approach a new business or creative pitch?
With an open mind, of course, but most importantly, it's all about problem-solving for me. It feels very important to be part of the team that can take care of a client's pain and fix it. Our service should always help our client's mission and vision.
9. What is your approach to brainstorming?
Every session is different, but I always appreciate that the web developer is there. He speaks a different language, which helps us consider different perspectives and be more creative. I like to take notes by hand and always enjoy when we bust out the colored pencils and sketch prospective ideas. Overall, I think brainstorm is all about finding opportunities and purpose. Ideas should always tie back to the main goal, and establishing that goal is key before brainstorming so we can be efficient and accurate in our campaigns.
10. What is your favorite design, marketing or digital trend?
I like how brands are simplifying their visuals. I think Apple started the trend when they decided to make their app icons flat and took off the shadows and gradients. You see many brands redoing their logo lately, and they are all going for simple lines and refined typography. I know this is nerdy, but I still remember enjoying simplifications in math class in high school, so there is just something very satisfying about that.
Stay tuned for our next installment where we catch up with Marcy Massura, Senior Strategist, Director of Digital & Consumer Engagement at Hension Consulting, Inc and one of our exceptional judges for the #AgencyLife Meme It to Win It Giveaway.