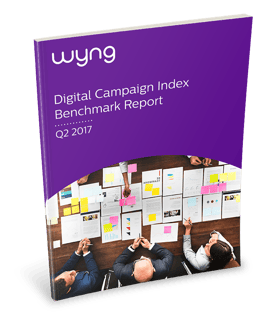 We have some exciting (like first-ever-in-the-history-of-Wyng) news. We just released our very first Digital Campaign Index (DCI) Benchmark Report!
A few months ago, we launch the Digital Campaign Index, a real-time scoring system that allows brands and agencies to quickly and objectively measure digital campaign performance. After the launch, we got to thinking – wouldn't it be something if we compiled and shared our findings from the DCI?
So, the Wyng team got together and for the very first time we've compiled our own data and insights to provide customers, brands and agencies with objective, independent reference points for assessing the performance of your digital campaigns, plus current and actionable insights to help maximize the success of future activities.
We couldn't be more excited to share our findings – below are some highlights from the report, including:
How digital campaigns are performing by industry

Which campaign types have the highest DCI

What types of campaigns see the most engagement (ES), most virality (VS)

Which types of use cases are helping marketers reach and exceed their campaign objectives