Concept: Launch a fun and engaging meme campaign to encourage participation from agencies for the chance to win multiple cases of Babe and Whispering Angel rosé.
Objective: Drive awareness of Wyng ahead of the launch of Wyng for Agencies. Offer agency partners a fun and interactive way to share their #agencylife experiences.
Digital Campaign Index (DCI) Score: 140
Use Case: Photo Lab, Fan Faves, and Suggest a Song with Spotify
We are taking a break from our normal Campaign of the Week programming to bring you our version of a #FlashbackFriday. For this week's Campaign of the Week we are taking things all the way back to hotter and more humid times, June to be specific, when we launched our own digital campaign -- the Wyng #AgencyLife Meme It to Win It Giveaway.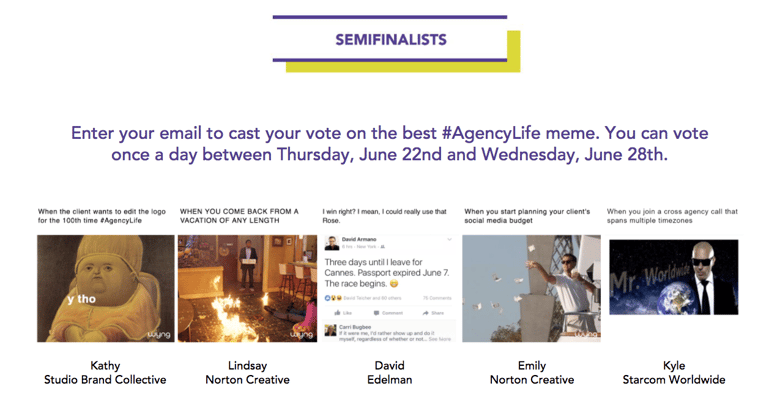 For anyone that has spent time on the internet or scrolling through Instagram and Twitter, you've most likely encountered a meme. If you have not, we are highly flattered to be your very first introduction to meme culture! Memes are the ultimate in user-created content. A large part of the appeal of memes is the fact that memes evolve, get remixed and can be applied to all of life's funny, sad, and weird situations. The fact that memes also aren't created by one source only adds to their appeal. Anyone can create or even become a meme.
At Wyng, we love our memes and we noticed many of our agency partner love memes as well. So to build anticipation for our Wyng for Agencies edition and give our agency friends a chance to flex their inner comedian and potentially win enough rosé to last them half a summer, we unleashed the #AgencyLife memes.
The campaign ended up being a sleeper hit with our agency partners and lead to the creation of some viral worthy #AgencyLife memes that we continue to use and laugh at.
DCI Overview: 140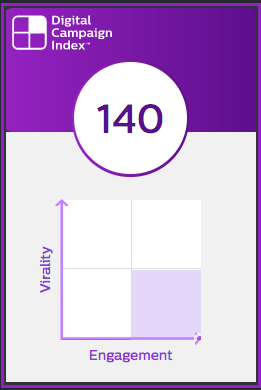 Our DCI score was a combination of an Engagement Score (ES) of 281 and Virality Score (VS) of 49. Our campaign has a much higher ES Score thanks to our focus on use-cases that helped to optimize our campaign and content for engagement. Including a scrollable meme gallery, multi-stage voting, and our #AgencyLife Spotify playlist, which all helped to keep consumers on our campaign page, clicking, scrolling, and viewing the meme submissions.
To increase sharing for our campaign, we implemented a two-step campaign to ensure high engagement and virality. The first phase encouraged agencies to submit their original memes to be judged by our panel of agency experts. In phase 2, we launched a fan faves voting competition to keep consumers engaged and sharing their favorites after the initial submission period ended.
After the close of the campaign, we continued to leverage the #AgencyLife meme content submitted in our other social and marketing activities, including in blogs and by highlighting our meme giveaway winner, read out our interview with Kathy from Studio Brand Collective here.
Check out more details below on best practices from our digital campaign that you can incorporate into your digital campaigns to increase Engagement and Virality Scores.
Engagement Score (ES): 281
Take advantage of innovative technologies.

We took full-advantage of the use cases and components available on the Wyng Platform to optimize our campaign for engagement. Campaigns that include a gallery or voting component tend to encourage and increase consumer engagement.

Incorporate co-created user generated content.

User generated content has become a primary source of discovery for customers. They are looking to friends, family members, and internet strangers for inspiration and recommendations. Designing a campaign to co-create content with your consumers is a great way to increase engagement and build a library of authentic content that can be reapplied in future marketing activities.

All roads lead to Rome.

Your social and advertising activities should all lead to one central experience for your consumers to engage with. Today's marketers recognize the need to constantly build and nurture their audiences and many are doing so by driving audiences downstream to immersive digital campaigns. For our campaign, we made sure all of our social and digital ads, emails, organic social posts, and influencer activities were driving to our #AgencyLife campaign page.
Virality Score (VS): 49
The power of influencers.

Influencers are the new celebrities. More and more marketers and PRpros are turning to macro and micro-influencers to add a viral component to their campaigns. To get the word out and encourage people to share their memes, we tapped the BeigeCardigan and a crew of agency influencers to lend us a hand.

Add a voting component to get the ball rolling.

While we had a judging panel for the first round of the meme competition, we added a fan favorite component to the campaign to increase the number of people sharing their individual photos to solicit votes and drive earned visits to our campaign. Putting the ultimate outcome of a contest in your consumers' hands is a great way to inspire social sharing.

Enable sharing across multiple social platforms.

It goes without saying, but the easier it is to share a piece of content from you're the campaign, the more likely it is that a consumer will. We took the bar for sharing and lowered it as far as it would go by including simple share language and easy to use share capabilities.
A huge benefit of running a campaign rooted in co-created content is the opportunity to use and apply the content created during your campaign to future marketing and social activities. We've extended the shelf-life of our #AgencyLife meme campaign by incorporating content into our social and email activates, printed outreach materials and other tactics. Considering how you can continue to leverage campaign content is something all brands and agencies should keep in mind when planning and executing their digital campaigns.
View our #AgencyLife meme gallery here.
Learn more about how you can launch a meme campaign by contacting us here.