Data is the breakfast of champions for marketers. It fuels every effort to understand, appeal to, and build relationships with customers. Data answers fundamental questions about the lives of customers and the products and services they use.
But the old ways of acquiring and using data are being challenged. For too long, data has been collected, bought, and sold without customer knowledge. New regulations, including the EU's General Data Protection Regulation (GDPR), which was introduced in 2018, and the California Consumer Privacy Act (CCPA), which is coming into effect in early 2020, point to a shining future in which customer data is treated with far more transparency than it is now.
As the new age of data glimmers on the horizon, Google and Apple are responding with measures to safeguard consumer privacy on their browsers. These measures will impact the amount and types of consumer data marketers and advertisers can gain access to.
Google and Apple: Taking steps to protect consumer privacy
Both Google Chrome and Apple Safari – which together account for 81 percent of US browser use, and 78 percent worldwide – have taken steps to protect consumer privacy by limiting third-party cookie tracking and targeting activity.
Google is preparing to revamp cookie controls in Chrome to make it easier for users to identify and block the third-party cookies used to build a profile of their browsing activity and target them with ads. Google will require that site developers specify what a cookie will be used for and users will be able to see which sites are setting third-party cookies. Armed with this information, consumers can make informed decisions about how their data is used. First-party cookies that are used to verify identity and store site-specific user preferences will be unaffected.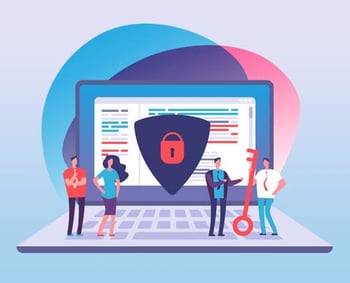 Apple has responded more forcefully. Its latest updates to Intelligent Tracking Prevention make it harder to track Safari users through a combination of cookie blocking and purging after specified periods of time. As a result, advertising and marketing companies will find that most online advertising activity is restricted and/or disrupted on Safari browsers.
These changes to limit the use of third-party cookies and related data further erode the effectiveness of traditional digital ad targeting. But is this necessarily a bad thing?
First-party vs third-party data
Without question, the best data is first-party data. First-party data is the most valuable to marketers because it is more accurate, reliable, and up-to-date than third-party data. It's also more valuable because brands can get the exact data they want.
There are two types of first-party data. Transactional first-party data is chiefly limited to brands that sell directly to consumers online. It includes customer contact information supplied at the online checkout, information about a customer's purchase history, and behavioral data that customers reveal when they browse or search a brand's online store. Transactional first-party data is valuable to brands, and it is one of the reasons that direct-to-consumer businesses like Dollar Shave Club, Casper, and Warby Parker have been so successful. Traditional brands that sell indirectly, through retail partners, are not in a position to gather or benefit from transactional first-party data.
The new kid on the block is a highly valuable variety of first-party data that both traditional brands and direct-to-consumer brands are eager to collect. More than just name, address, and purchase history, this is the information customers voluntarily share with brands they trust -- data about their preferences, interests, and aspirations -- in return for benefits such as relevant product recommendations, more personalized experiences, relevant coupons and other offers, free samples, or access to exclusive content.
How can brands gather this type of information from customers? By asking. By crafting experiences consumers want to participate in, and by giving consumers something they value in exchange for their participation, brands can get answers to the vital questions about what consumers want and why. This type of first-party data is the holy grail for all companies. Check out these examples.
A brave new world
Google and Apple's cookie changes, along with the broader industry focus on protecting consumer privacy, will make traditional advertising techniques less effective for brands.
The new regulations and the changes to cookies are two more good reasons for brands to invest in first-party data. Both direct-to-consumer and more traditional brands have everything to gain by making the shift: more personal information on their customers, greater loyalty to their brands, and the ability to create more effective marketing and advertising campaigns. For consumers and marketers alike, first-party data is a healthy option worth pursuing.
For more information about first-party data, please visit our website, www.wyng.com, or contact us to talk about how we can help you collect and make the most of first-party data.