Concept: To promote their new mascara line, Too Faced launched an interactive quiz to help consumers identify the right product for them.
Objective: Improve personalization around marketing communications for new products, offers and recommendations; direct consumers to a shoppable product recommendation; capture zero-party data to integrate within its CRM database and drive engagement and customer retention.
Use Case: Quiz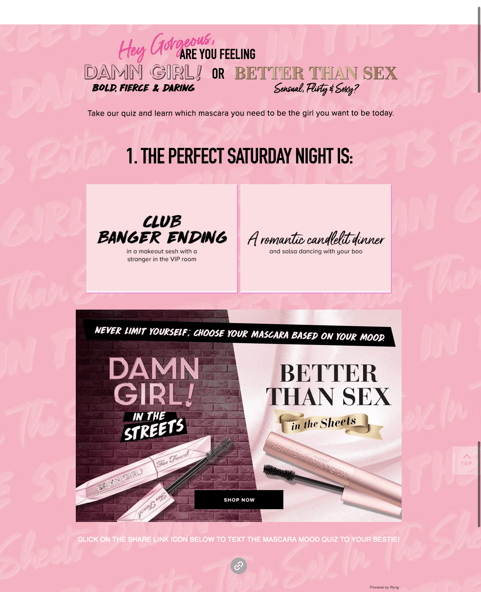 To celebrate the launch of their two new mascara product lines, Too Faced launched an interactive quiz to help their consumers identify which product line fits their personality best. Too Faced published a data-centric quiz to their website; asking consumers to answer a series of short questions around their ideal night outs, looks, and makeup preferences to reveal their personalized mascara recommendation and direct them to a shoppable product page to easily buy their quiz result.
The answers to their interactive quiz microexperience provide Too Faced with data that can be used within future marketing communications, and gives them the option to utilize this valuable zero-party data within its CRM strategy.
Check out their product advisory quiz HERE
Keep reading for a few tips on how your brand can leverage Questions and Quizzes to collect zero-party data.
The struggle can be real. Making decisions can be difficult. What to get for dinner? Where to go on vacation? What mascara is best for me today? Brands that have published quizzes as a method for helping their consumers make these decisions have seen the payoff through increased website traffic, spikes in engagement and high-quality email acquisitions.
Consumers still love quizzes. Two things we've learned at Wyng over the last eight years is that consumers love taking and sharing quiz results on social media and posting photos of babies and cats. Quizzes are great conversation starters on social media and quizzes offer the perfect opportunity for brands to collect self-reported preferences and habits that can inform future marketing and microexperience activities.
Learn more about how brands, like Too Faced, are using zero-party data to methodically convert their unknown audiences into known contacts — and their formula for success HERE.