What day of the week is it again? With so many of us staying home because of the pandemic, it can be hard to keep track. A change of scenery to a tropical destination, a winter wonderland, or a temperate weekend getaway sounds pretty nice right about now.
Quarantine has given all of us a bit of cabin fever. Families are dreaming about their next big trip, and many are looking to plan a safe, stress-free getaway sooner rather than later - everyone needs an escape from time-to-time, after all.
25% of those who completed the quiz clicked to book on Vrbo.com
This was the challenge Vrbo came to Wyng with. The most popular vacation rental site in the U.S. wanted to keep its customers engaged and safe if they traveled during the pandemic. Enter the new Vrbo Vacay Finder, a microexperience built on the Wyng Platform that provides individualized vacation destination recommendations based on a traveler's personal preferences.
"People want to be thinking about their next family getaway and have something to look forward to," said Lucy Higson, Customer Marketing Strategist at Vrbo. "We wanted to find a creative way to engage travelers and provide personalized recommendations for their next travel destinations."
VACAY IDEAS FOR EVERYONE'S NEEDS
The Vrbo Vacay Finder has a lot going on 'under the hood' — let's take a look.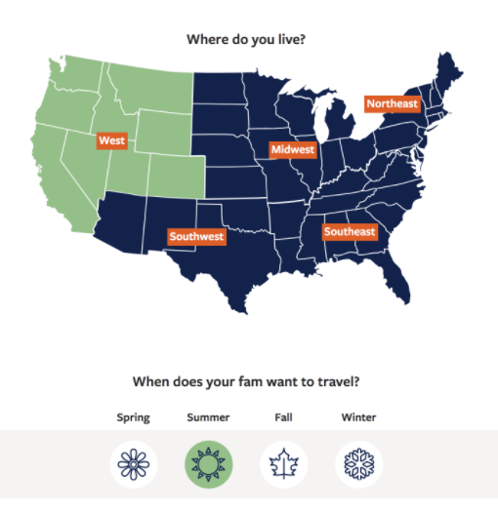 This single-page quiz starts with a series of four questions to gather personal travel preferences:
Regional location within the U.S.
The desired season for your family to travel
Type of destination: city, beach, etc.
The ideal level of activity for your family
The experience features unique answer displays, including both images and text to highlight answer choices. For example, the quiz starts with a map graphic of the U.S., with the names of each region overlaid on top. The visual aesthetic makes answering the questions less of a chore and more like a game.
By asking these quick questions, Vrbo understands each customer's unique travel preferences and interests. This zero-party data enables the brand to provide highly relevant, personalized trip recommendations both in the moment and in future interactions.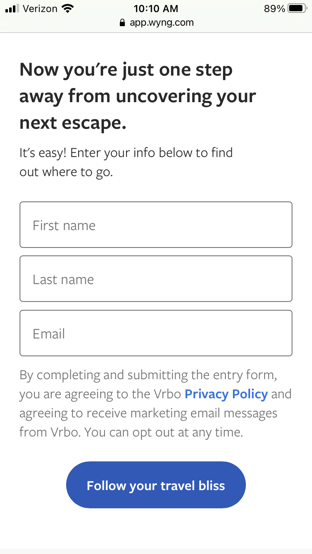 After finishing the quiz, users are asked to provide their names and email addresses, and opt-in to receive marketing email messages from the brand. The footer beneath the form is clear and easy to understand, and it includes a link to the Vrbo privacy policy.
Lastly, the results page outlines a user's personalized destination recommendations based on how they answered the quiz questions. They can share their outcome with friends and family via Facebook, Twitter, or email.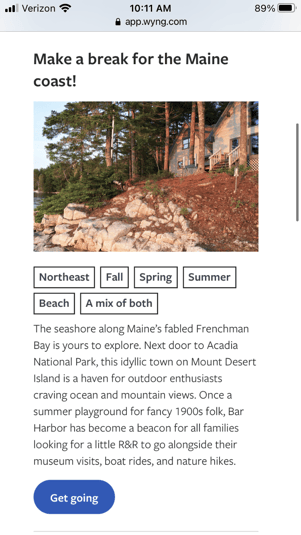 The result page also includes a dynamic 'Trip Board' section that allows for friends and family to collaborate to create a vacation itinerary together. The Wyng experience links out to the Vrbo website, so users can finalize their travel plans and begin booking their trip.
Lower on the results page, there is a gallery that contains all possible destination results. This allows users to explore other destinations without having to retake the quiz. Users can select filters or click on destination images for more vacation idea inspiration. The clickable tags facilitate a continuous journey of discovering more local vacation opportunities. This unique section proved powerful, as the results showed that, on average, users explored two additional vacation experiences before leaving the page.
IMPACT AND THE FUTURE
So far, the Vrbo Vacay Finder has resonated with would-be travelers during the pandemic. Nearly 80,000 people took the quiz in the first three months.
23%
of visitors completed the quiz
25%
of those who completed the quiz clicked to book on Vrbo.com
27%
of travelers clicked 'related recommendations' in the gallery
Part of the reason for this has to do with the design of the solution - it's simple, clean, visual, and has auto-scroll functionality as each question is answered.
The key to a successful quiz strategy is to continue to optimize, learn from the data, adjust to evolving restrictions, and adapt to the ever-changing digital consumer. By partnering with Wyng, brands like Vrbo can continuously update quizzes by asking new questions, allowing the brands to get to know their consumers better and provide them with the best possible experiences at each interaction.
Check out the Vrbo Vacay Finder yourself, and check back here for more breakdowns of Wyng brand microexperiences soon.