Concept: Launch a digital campaign in conjunction with Walmart's $119 advertising and digital awareness campaign.

Objective: Highlight Walmart's new 2-day free shipping offer; leverage traditional advertising to drive social and interactive engagement with promotion.

Digital Campaign Index (DCI) Score: 152
Use Case: Instant Win + Content Stream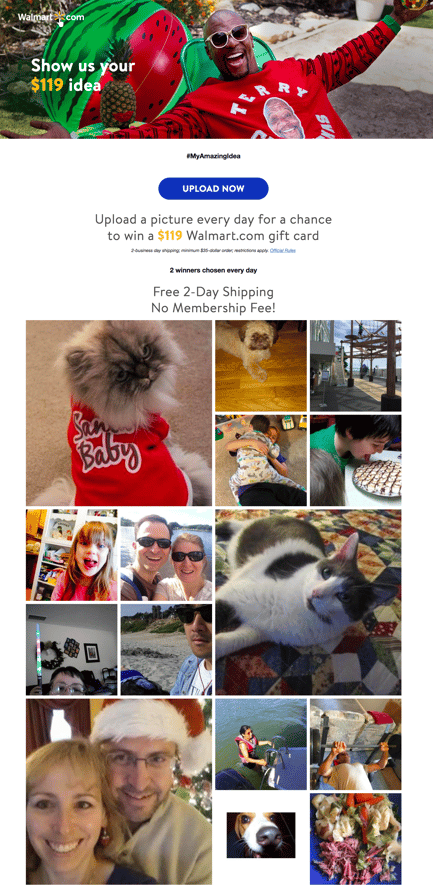 Waiting sucks. Especially when it comes to shipping. Gone are the days of waiting 5-7 business days for your package to come, if it isn't there in 3-days or less, brands and especially customer services reps will be hearing about it. With their latest campaign, Walmart and their partner, WHOSAY, is looking to slide into the hearts (or DMs) of all impatient and procrastinating consumers everywhere by now offering free 2-day shipping on all orders over $35, no membership required. To raise awareness, the Walmart team has also cleverly been rolling out advertisements, including new TV spots and banner ads, which highlight what consumers can get for $119.
To complement their traditional and digital advertising buys, Walmart has also started to engage shoppers around a variety of experiential and interactive digital campaigns, their most recent being an Instant Win sweepstakes powered by Wyng. All consumers had to do for the chance to win during one of their 15 drawings was upload a photo showing what their big $119 idea was. Again, very clever and a smart way to integrate more traditional advertising channels with the new, interactive digital campaigns most consumers are interacting with everyday on social channels.
To check out there $119 Instant Win campaign visit here.
DCI Score Overview: 152
Walmart's campaign DCI score is a combination of an Engagement Score (ES) and Virality Score (VS). Their campaign is benefiting from repeat campaign visits, campaign clicks and submissions.
Check out more details below on best practices you can incorporate into your digital campaigns to increase Engagement and Virality.
Engagement Score (ES)
Keep your prizes aligned with your brand.

Having an over-the-top prize doesn't always ensure campaign success, after helping brands run thousands of campaigns it is clear that the value of a prize doesn't have to be high, but it should align with the heart of your brand or the campaign's theme. When prizes mesh perfectly with your brand, great things can happen in terms of engagement. Walmart's campaign is a great example of how a prize can serve a bigger purpose as an extension of other brand priorities and activities.

Build a campaign that encourages repeat visits and clicks.

Walmart did an amazing job of building out a sweepstakes that encourages consumers to keep coming back to their website to not only potentially win a prize, but share more content. Participating once in a campaign is a good, but building a campaign where consumers can participate multiple times is where brands can really stand to win.
Virality Score (VS)
Encourage sharing for new chances to win.

An easy way to increase sharing is to reward consumers that share the campaign with more chances to win. Adding a component where consumers are rewarded with either new prizes, clues, or opportunities to win encourages consumers to take that next step and share and promote the campaign with their social networks.
Make sure you go visit Walmart's campaign
here
, but also keep your eyes peeled for some of their other content around the ask, "what would you do with $119?"