Concept: Launch a custom, interactive Countdown Calendar to get fans excited for Scooby Doo's 50th birthday.
Objective: Reveal exclusive and informative content daily to drive repeat audience engagement and website visitation; maximize campaign exposure using social sharing actions and unique sweepstakes.
Use Case: Custom + Countdown Calendar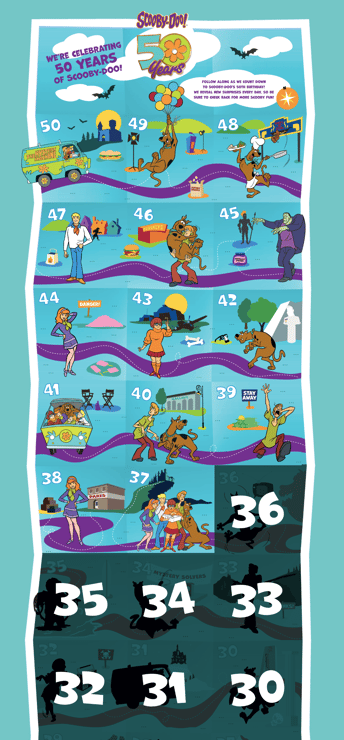 To drive anticipation ahead of Scooby Doo's 50th Birthday, Warner Bros. has launched a reveal microexperience using a custom Wyng Countdown Calendar build, where website visitors can unlock a new tile each day, full of fun facts, quotes, exclusive video content, and sweepstakes giving fans of Scooby Doo the chance to win a variety of birthday surprises.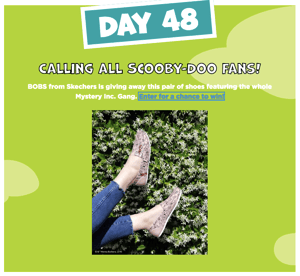 To drive repeat website visitation and boost awareness around Scooby's milestone birthday, Warner Bros. will count down to Scooby's birthday across 50 consecutive days, where fans can unlock a new tile to expose the exclusive content. Within each tile is also a unique form or opportunity for fans to submit various types of personal contact details, from emails to social media accounts, enabling Warner Bros to collect valuable data on fans while providing them a fun, interactive social hub to engage with.
Check out their interactive Countdown Calendar HERE.
Keep reading for a few tips on how your brand can leverage Content Reveals and Countdown Calendars to collect first-party data.
Enable multiple form entries. As part of their Countdown Calendar, Warner Bros. incorporated multiple sign-up forms for various prizes, games, and content that will be revealed throughout the campaign. Consumers can submit a form for each new prize or unique experience revealed, encouraging repeat website visits through multiple chances to win, and offering multiple chances to collect first-party data and consumer insights.
Your microexperience should be the star. Your social and advertising activities should all lead to one central experience for your consumers to engage with. Today's marketers recognize the need to constantly build and nurture their audiences and many are doing so by driving audiences downstream to immersive digital campaigns, where first-party data can seamlessly be collected and integrated into your brand's activities.
Learn more about how entertainment and media companies, like Warner Bros., are using first-party data to methodically convert their unknown audiences into known contacts — and their formula for success HERE.