Concept: WD-40 Brand is honoring the men and women who Live Life Hands On through a direct video upload contest. To enter, consumers have to share a video story about how they use one or more WD-40 Brand products at home, at work or at play in everyday or extreme situations.
Objectives: Collect impactful user-generated content from WD-40 Brand consumers to show how WD-40 Brand products help people get their job done right.
Use Case: Video Contest
WD-40 Brand is honoring the men and women who Live Life Hands On. The ones who roll up their sleeves, get their hands dirty and take charge of every situation because they're not afraid to get to work, fix what's broken and live life on their own terms.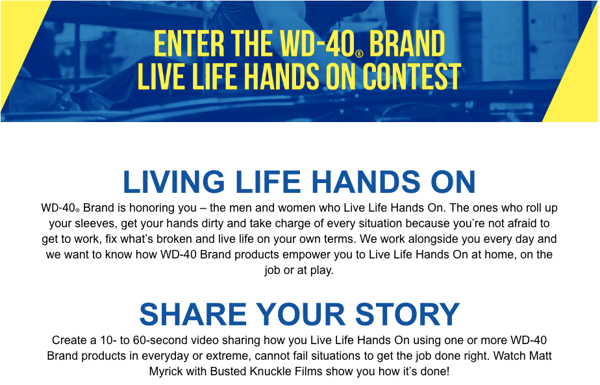 With a video contest using the Wyng Platform's direct video upload capabilities, WD-40 Brand is asking their consumers to create a 10- to 60-second video sharing how they Live Life Hands On using one or more WD-40 Brand products in everyday or extreme, cannot fail situations to get the job done right, for the chance to win a variety of prizes.
The submissions via their microexperience provide WD-40 with video content that educates them about how people use their products every day.
Check out their microexperience HERE.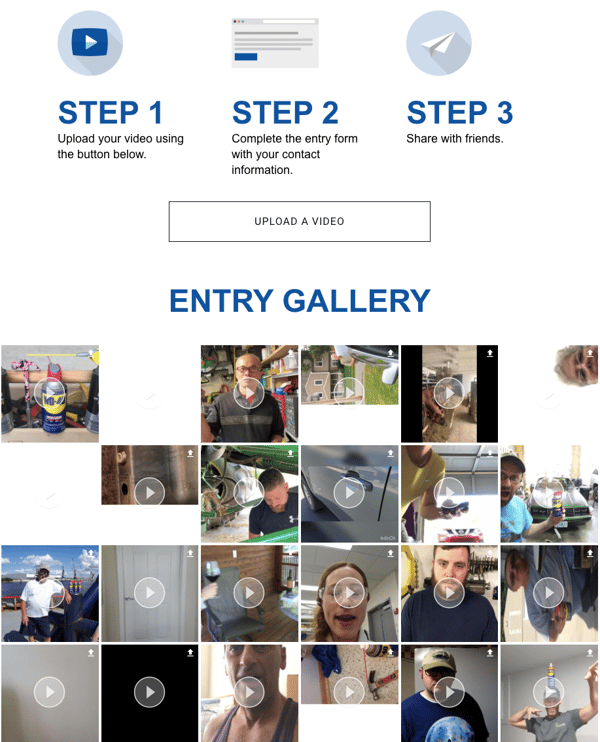 Keep reading for a few tips on how your brand can leverage Questions and Quizzes to collect content.
Boost your microexepriences engagement with a video gallery. 55 percent of consumers watch video online every day and adding a video gallery to your campaign page is a great way to increase the time consumers spend on your site scrolling and clicking.
Learn more about how brands, like WD-40 Brand, are connecting with their end users by asking them to share their stories — and their formula for success HERE.