Concept: Create a fun and shareable holiday eGreeting campaign to encourage Whataburger consumers to share eCards with friends and family.
Objective: Have consumers personalize and share branded Whataburger holiday eGreeting cards.
Digital Campaign Index (DCI) Score: 180
Use Case: eGreeting Creator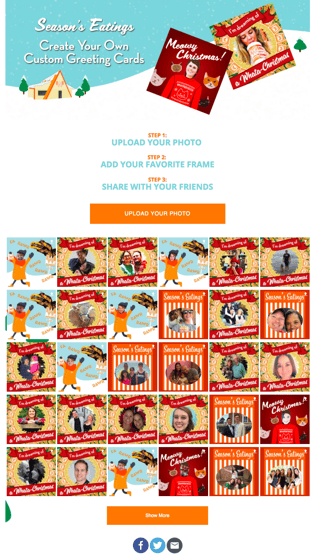 News flash – burgers are amazing!
A great burger with a perfectly salted side of fries is what fast food fanatics dreams are made of and most burger fans will tell you they have a favorite. A quick and unofficial survey of the Wyng office revealed a variety of burger preferences and some strong thoughts on why. We won't get into the details here, but stay tuned for the riveting results on our Instagram. One chain that popped up a few times was Whataburger, a burger chain based in Texas that has built a solid reputation as being fast, friendly, and grilling up a consistently tasty burger – long story short they've hit the perfect trifecta.
With a solid reputation, it is no surprise that Whataburger has a squad of loyal fans, who are sharing, liking, and spreading the word about their love for their burgers and fries. To get their fans excited and encourage them to keep sharing Whataburger content during the holidays, Whataburger launched a deliciously hilarious and easily shareable "Season's Eatings" eGreeting Creator. Consumers can upload a photo of themselves and then place one of four custom branded frames over their photo, which can be shared on Facebook, Twitter or by Email. Whataburger's fans are eating up the campaign, which is clear from Whataburger's high DCI score of 180.
DCI Score Overview: 180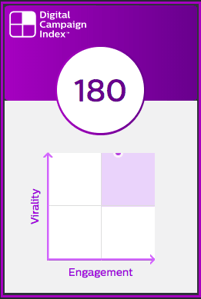 Whataburger's high DCI score is a combination of their Engagement Score (ES) of 133 and their above-average Virality Score (VS) of 228, and its success is due to a brilliant combination of brand affinity, concept, and streamlined sharing options.
Engagement Score (ES): 133
Leverage technology to engage consumers. Whataburger made great use of the Wyng Platform and our eGreeting Creator to streamline the photo submission process for consumers, facilitating more time spent on site through an improved overall campaign experience.
Make it branded – but fun. Whataburger has a pretty distinct color palette, which Whataburger's custom campaign frames reflect perfectly. The orange and white, along with the fry and burger motifs immediately bring to mind their brand, without having to make it obvious by using a logo or on-the-nose text.
Virality Score (VS): 228
Give your consumers the download. In addition to embedding share functions for Facebook and Twitter, Whataburger included a download option. Allowing consumers to download and then share is a smart way to optimize your campaign for all social platforms driving earned reach.
Keep up the holiday cheer. Whataburger ensured that their campaign was infused with holiday cheer. The eGreeting card frames they created for their consumers to share are humorous and eye-catching, a perfect combo for driving content sharing.
Make sure to check out Whataburger's "Season's Eatings" eGreeting campaign here and upload and share your own creation!