As you may know, we release new use cases, components and features every two weeks (on Wednesday!) as part of our ongoing commitment to deliver an innovative, easy to use platform for our agency and brand partners.
We're going to highlight our top three updates each release and talk about what it's for, how it works and how you can take advantage of it today.
Btw, we LOVE hearing product feedback from our customers! If you have any suggestions, please contact us today.
__________________________________________________________________________
This release is all about ease of use through revamped functionality for marketers and a simplified participation and share experience for consumers. Updates include a new copy link option, privacy policy links, and form updates.
Read on to learn more…
Improved Share Options: A New "Copy Link" Button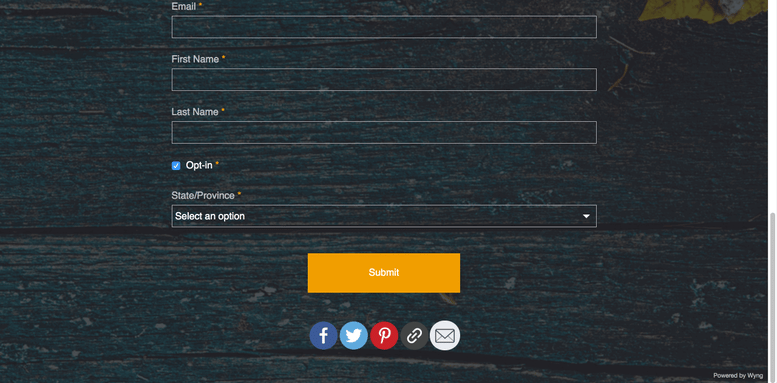 What is it?
We've added a new share option -- a "copy link" button. This gives consumers a specific share link to use and send to their networks, facilitating the share process via messaging apps and SMS.
After clicking on the "copy link" button within a campaign, the link will be copied to a consumer's desktop or device, and the consumer can then paste in a messaging app, SMS or other channel of choice to share a campaign (or piece of content within a campaign!).
How does it work?
While the copied share link can be sent through whatever means a consumer chooses, we anticipate it will be primarily used in messenger apps such as:
iMessage

Android

Messages

SMS

WhatsApp
Platform users can enable this option in the Drag & Drop builder through the Share Component and share settings featured in the Upload, Gallery, and Carousel Components.
Learn more about how you can add a Copy Link Button to your next campaign here.
How can you use it?
This option can be added to any campaign type, but here are a few examples of campaigns you might want to incorporate this feature into:
Brand video contest

Holiday photo or video gallery

Event, product launch, or sweepstakes countdown calendar

Video testimonial

Fan photo spotlight
New Form Component Features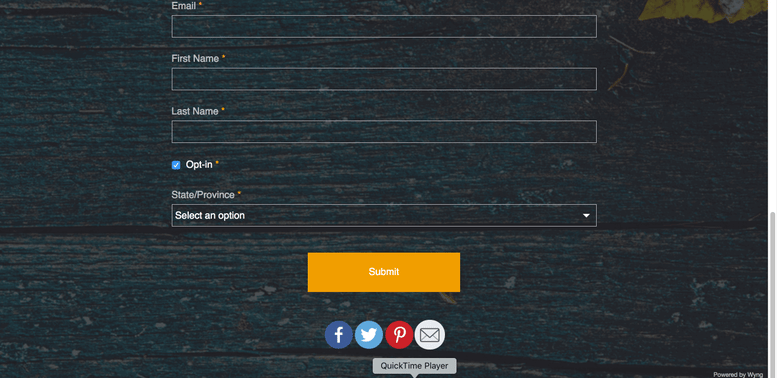 What is it?
While a Form component might seem fairly straightforward, ours is quite sophisticated in terms of what you're able to configure as a marketer. A form is often the backbone of a campaign, capturing valuable data for integration into a CRM or ESP, but requires specific configuration options in order to meet brand or legal requirements.
How does it work?
This week's Form component updates include:
Find these form options within the Forms Component and inside of the form featured in both Upload Components as specific form fields.
Learn more about how you can configure the Form Component here.
How can you use it?
The Form component can be added to a variety of sweepstakes, sampling or custom campaign types, including:
Ask your consumers to share how your brand fits into their lifestyle

Offer a discount code for new or existing products

Collect and get rights to relevant and valuable UGC to reuse in your marketing

Product giveaways

Photo and video contests
New Required Privacy Policy Links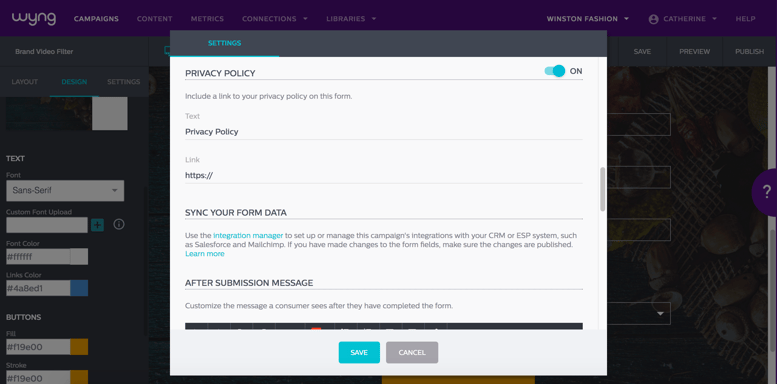 What is it for?
Consumers can enter email addresses and other information into forms, or upload and share photos and videos as part of most campaigns. As a result of the personal information and/or content collected, many brands need to provide a privacy policy for the campaign, detailing how a consumer's information will and will not be used and stored.
How does it work?
Marketers can now add and configure their privacy policy at the property level, making it easy to reuse on every form. Not only will brands show their privacy policy consistently within each form, but they can also make the privacy policy mandatory for all campaigns, which is extremely helpful for larger enterprises and agencies running numerous campaigns across teams.
These settings can be found in Form settings and from within Property settings under a new "Campaigns" tab.
How can you use it?
The privacy policy links can be added to any type of campaign or use case. The sky's the limit on the types of campaigns and uses that this component is compatible with.
Learn about our latest use case, Brand Video Filter, here!
Be sure to check out (and bookmark!) our What's New Page for a comprehensive list of product updates.