Jack has been at Wyng for nearly 5 years and
is key adviser to our enterprise CPG and agency
partners on promotional solutions and strategies. He was also at one point in an

ongoing battle for the top ping pong slot in our office with one of our lead developers. It is unclear who ended up taking the top slot, but reach out to Jack if you are dying to know!
We caught up with Jack to ask him a few questions about why he loves Wyng and what he misses most about New York City after making the move out to San Francisco earlier this year!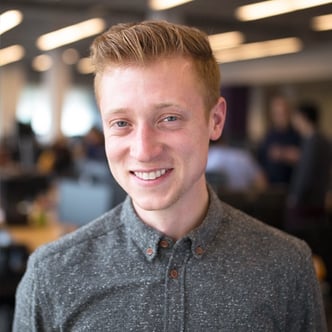 Name:
Jack
Gibbs
Role and tenure at

Wyng

:

Director of Sales, nearly 5 years
Tell us about your role at

Wyng

?
I

'm focused on expanding our work with enterprise brands & agencies, as well as supporting our team of reps. Along with our enterprise and agency initiatives, I also work closely with marketing and product on GTM strategies.
What's the best consumer trend or development in the market today?

Why

?
Simply the way people consume content today is fascinating. Most millennials read the news via social media which has massive implications, and with things like Sling, Youtube subscription TV, Amazon Prime + Thursday Night Football – the ensuing shakeups will be interesting to see play out.
What's your favorite

Wyng

-powered campaign to date, and

why

?
I
loved the
Adidas Silent Auction for WomenWin.org
. Every brand is trying to fight for attention, and when you can spotlight your products in a fun and creative way, while also driving incredible media coverage with an altruistic objective (raising money for the non profit), you're winning.
What is your favorite

Wyng

Use-Case, and

why

?

Trivia Quiz.

I

'm a big trivia guy – actually spending hours each month in heated competitions with my mother-in-law on Trivia Crack (a mobile app).
What is your favorite part of working at

Wyng

? Any notable memories?

So many memories! We've grown so much as a company these past few years. My favorite part is that both the space and the product change on the WEEKLY. If

I

was stuck working in a slow moving field, with an archaic product,

I

would quickly grow frustrated. It's been fun to see things change so drastically, as well as specific employees take on new responsibilities and grow as professional individuals.
What are you currently binge-watching or reading?
Stranger Things on Netflix.
I
watched the first season in one weekend while my wife was out of town, and am so pumped Season 2 is finally out.
I
've also been very intrigued and interested by the content put out each week by The Hustle (think the Skimm, but with business content). Admittedly my go-to flop on the couch and cheese out tv show is still Friends.
What are some of your favorite brands and agencies?
Spotify for their incredible stickiness (Release Radar and Discovery Weekly changed my life), and Lyft for having a great product, but more importantly incredible customer support.
I
'm consistently intrigued by R/GA and Droga5, due to the uniqueness of their creative, as well as the absurd growth they've both seen over the last few years.
You recently moved to San Francisco, but what is the one place you try and visit with your back in New York City?
My go-to lunch spot in the city is Choza Taqueria, and my team rolls their eyes every time
I
ask "who's in?".
I
also make frequent visits to John's on Bleeker for some NY style pizza – it's just not the same out west. The burritos in SF tho...
What are you most looking forward to in 2018?
I
'm most excited about expanding our
FB Bot
capabilities and in-feed/messenger tools. This goes back to our early company roots of Facebook focused campaigns, and it's where consumers spent a stupid amount of time (myself included) – thus worthwhile to optimize and productize further.