Concept: Drive interaction and engagement to bring awareness to how skin issues can affect a dog's well-being with actress Kate Walsh.
Objective: Increase brand advocacy by inspiring authentic UGC and driving charitable donations to the K-9 Courage Program. Maximize awareness around canine itch products from Zoetis and its #MyDogsAGame social media campaign.
Use Case: Photo Lab + Video and Photo Gallery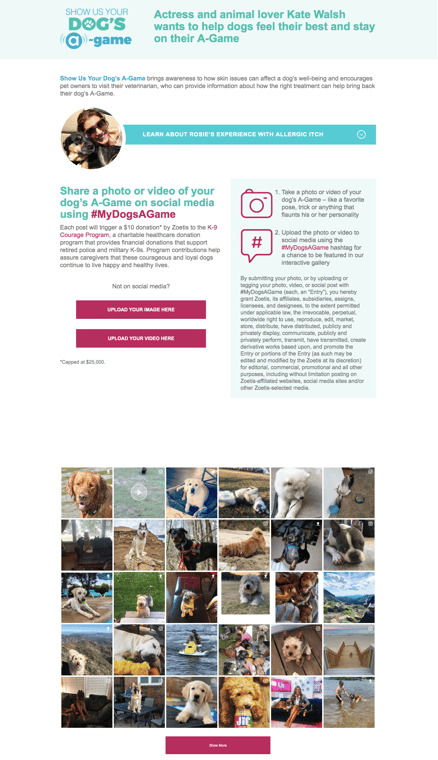 Some brands easily lend themselves to collecting user-generated content, like the recent James Beard "Blended Burgers Project" microexperience, but for other products and brands, it takes a little more ingenuity to launch a successful user generated content (UGC) campaign, which is why we were blown away by the recent work from Zoetis, the largest global animal health company, their brand APOQUEL® (oclacitinib tablet) and their marketing communications partners, Ogilvy and GCI Health.
APOQUEL, in partnership with Actress Kate Walsh, launched a seriously cute photo and video hashtag microexperience using the Wyng Photo Lab and Content Galleries to bring awareness to how skin issues can affect a dog's well-being. By sharing a photo or video of your dog's A-Game on social media using #MyDogsAGame, each post will trigger a donation by Zoetis to the K-9 Courage Program, a charitable healthcare donation program that provides financial donations that support retired police and military K-9s.
Check out their dog photo and video gallery HERE, and upload your own to encourage pet owners to visit their veterinarian, who can provide information about how the right treatment can help bring back their dog's A-Game.
Keep reading for a few tips on how your brand can leverage a Photo Lab to collect zero-party data.
Focus on the result, not the process

. APOQUEL asked for pictures of happy dogs and puppies who are already on their A-Game. The brand struck the perfect tone for the campaign. And, of course, each picture proudly advertised that a happy dog is a healthy dog.

Know your audience.

For an incentive, Zoetis is donating to the K-9 Courage Program, where contributions help assure caregivers that these courageous and loyal dogs continue to live happy and healthy lives, a cause any animal or dog-lover can get behind and support.
Learn more about how brands, like APOQUEL, are using zero-party data to methodically convert their unknown audiences into known contacts — and their formula for success HERE.