We're pleased to announce Product Advisor, a new Wyng use case that gives brands powerful and creative ways to help consumers find or discover products based on their personal needs or preferences -- and at the same time enables brands to spot purchase intent, and collect and activate zero-party (ZPD) data to drive more sales.

Product Advisor makes it easy for brands to create one-of-a-kind, guided selling experiences that help consumers find or discover products by asking them questions about their preferences -- and based on their responses, recommending, guiding them to, or matching them with the most relevant product for them.


Product Advisor microexperiences stand apart from the undifferentiated, uniform experiences that characterize much of the e-commerce landscape (what Forrester calls "Digital Sameness").

Click here to see a live example.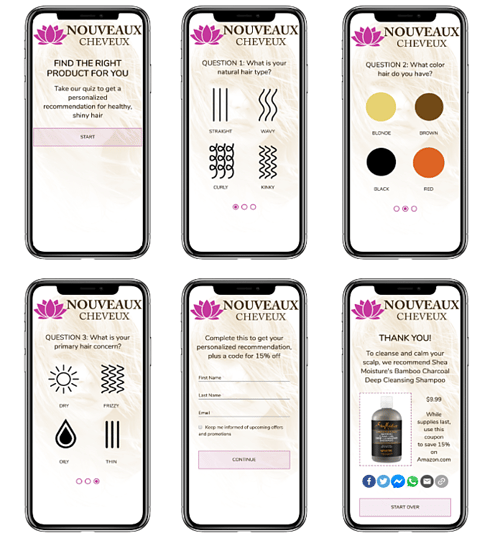 You can easily reskin or reconfigure the layout, and change the behavior of the pre-built Product Advisor use case to meet your brand's needs -- and because the experience is built using our visual Questions component, it's easy to customize the questions, and map responses to specific products.
You can add calls-to-action, such as "Buy Now" buttons linking to the appropriate product detail pages on your website. You can also add links to purchase pages on a retail partner sites like Amazon, or embed a third-party "Where to Buy" button. Optionally, you can include a coupon or promo codes to boost conversion rates.
Product Advisors are a great way to spot purchase intent. All data shared by consumers with your brand is securely collected by the Wyng platform, and can be integrated with and activated through your CDP or CRM, ESP, DMP and Facebook Pixel -- for example, to enrich CRM profiles, and retarget or remarket to consumers. One best practice for activating the data is to integrate Wyng with your email service provider (ESP) so that each participant in the Product Advisor automatically receives a triggered email, including the product and a link to purchase it.
As with all microexperiences created using Wyng, you can easily deploy Product Advisors as embedded experiences on your website, mobile app or blog using our auto-generated JavaScript embed code (which works just like a YouTube embed code). Alternatively, you can deploy Product Advisors as landing pages hosted by Wyng.
The most common deployment model is evergreen, "always on" microexperiences on websites and mobile apps. The custom Acne Quiz below, which is featured on L'ORÉAL's acnefree.com home page, enables consumers to get a personalized product recommendation after sharing their individual skin conditions and email address. Along with the product recommendation, consumers also receive a link to the product details page which includes a coupon offer to further incentivize a purchase.

Brands also create Product Advisors for specific product categories, and embed them deeper in their website, on their blog, or deliver them to a specific customer segment on a landing page and drive traffic via email or advertising.
Product Advisors can be customized to enrich customer profiles without requiring each participant to enter their email address. For example, a brand may create a custom Product Advisor with the goal of collecting preferences and other zero-party data from existing customers, or from a specific segment of customers. By emailing their existing database (or a specific segment), and coding the call-to-action link in each email to pass the customer ID to the Product Advisor via dynamic URL parameters, a brand can enrich profiles without asking each customer for their email address.
To learn more about Product Advisor: